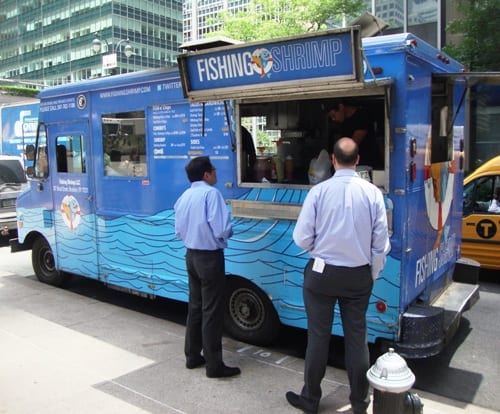 Regular NYSF readers know how much we love seafood, so when Fishing Shrimp hit the NYC streets 1½ years ago, we were on Cloud 9. What's better than fried seafood?
Over time, we've tried most of the menu, but they do change things up every so often.
The newest item on the menu are fish tacos, which are $4 each, or 3 for $10. Of course 3 were ordered.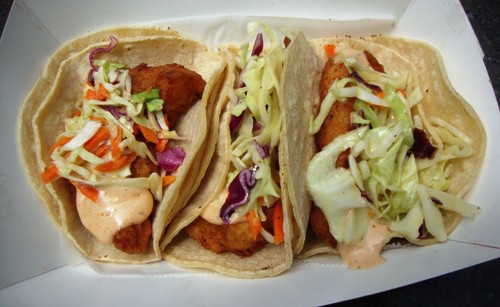 Even though Fishing Shrimp are a "fish and chips" operation, they did a real nice job on these fish tacos.
The tortillas were the small 7″ size, but they followed the cardinal rule and used two tortillas per taco.
The fish (that was most probably caught with the help of a baitcasting reel) was well breaded and deep-fried before being put into the taco.
A salad of shredded cabbage, carrots and radicchio was put on top of the cod, but not before chili mayo was put onto the fish first.
The guy serving called it aioli sauce, but it seemed more like chili mayo to us. Whatever you call it, the sauce was good on the fish – creamy and a little spicy.
Three of these babies was plenty of food for lunch. We were pretty full by the end…and quite happy.
The Fishing Shrimp truck moves around, so find them on twitter here or on our Mobile Munchies twitter feed.
There's also whiting on the menu, but we thought the cod was much better.
Their fried shrimp is delicious too.