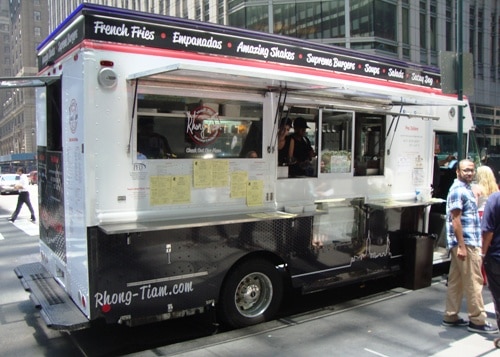 Apologies to Davie Bowie for the headline.
We were contacted by someone on twitter from the Supreme Burger Truck a few days ago. If you recall, we reviewed the Rhong-Tiam Supreme Burger Truck a couple of times, here and here. Their twitter was @RhongTiam.
This message came from the twitter account @SupremeBurgerNY. Was it a new truck or just a new twitter account? Turns out it was a little of both.
When we stopped by the Supreme Burger Truck, it looked like the same Rhong-Tiam truck, but Andy Yang was nowhere to be found. What we did find was a truck crew that looked kind of familiar.
After talking to Darren, who takes orders and handles cash at the truck, he told me they all used to be on the Seoul Food truck. He told us that Seoul Food ran into money problems and stopped paying the crew, so they left and started their own food truck.
As we detailed in the Rhong-Tiam Supreme Burger Truck First Look, Andy from Rhong-Tiam was stretched pretty thin with restaurants, a pad thai cart, a burger truck, and plans for a satay dog cart.
Darren and crew took over the Supreme Burger Truck, kept some of the burgers, took off some of the funkier items like eel and spicy tuna, and added burritos, rice bowls and empanadas. You can still get a milkshake too.
The new menu is truly a cross between the Seoul Food and Rhong Tiam Supreme Burger truck menus.
We ordered a rice bowl with angus beef and spicy honey mayo sauce for $9.75.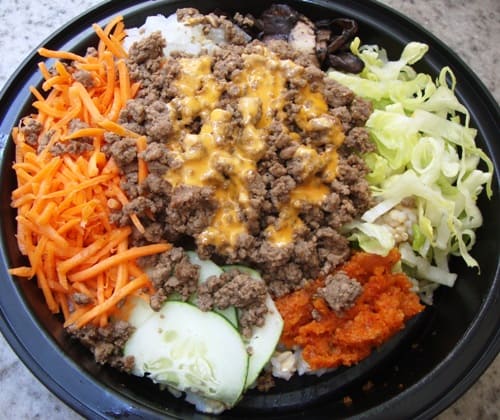 Opening up the container, it looked pretty similar to Seoul Food's bibimbap, which is a good thing.
There was a lot of ground angus beef, as well as sections of cucumbers, carrots, onions, mushrooms and lettuce placed around the bowl. There was also what we could only describe as a kimchi spread. The beef was served over your choice of white or brown rice.
We would have preferred the beef to be cut up pieces, not ground beef, but it was still good.
The spicy honey mayo was a fine choice of sauces to go over the beef. In fact, we added even more after mixing the ingredients around in the bowl. It's not like we're gonna eat raw onions, then carrots, then kimchi spread, then mushrooms… You've gotta mix this bowl around.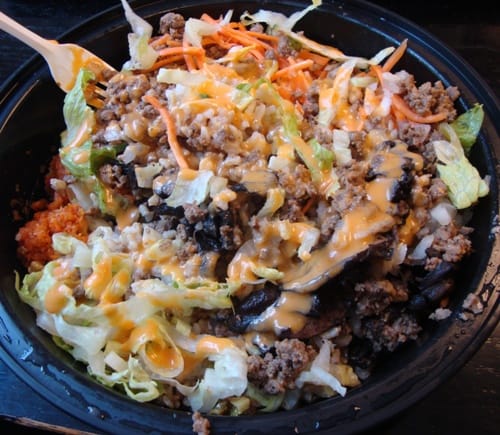 As we said, the sauce was nice, with a little honey adding a touch of sweetness to the spicy mayo. There was still some spiciness though.
We not only enjoyed lunch from the Supreme Burger Truck, but we also felt healthy after eating it. We've had so much fried food lately, it's good to eat veggies and non-fried meat for a change.
You can find the Supreme Burger Truck on twitter here or on our Mobile Munchies twitter feed.
Now we need to get back there to try some of the other burgers and fries. The empanada menu looked intriguing as well.