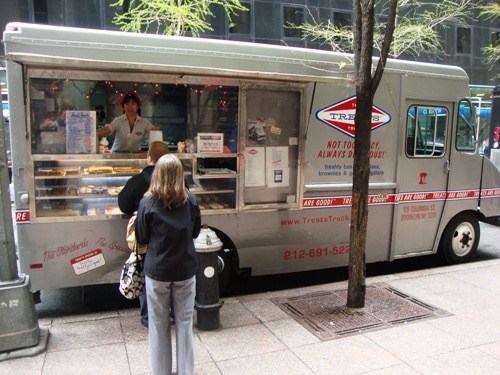 One of the true pioneers of the NYC food truck scene is Kim Ima and The Treats Truck.  They have been around since 2007, and were given a Best Dessert award at the 2008 Vendy Awards, before the Best Dessert category even existed.
Always evolving, last year Kim came out with the Treats Truck Baking Book, and last weekend, the Treats Truck Stop opened at 521 Court St in Carroll Gardens, Brooklyn.  We heard there was a toast (with milk and cookies) and a ribbon cutting.  The closest subway stop is the Carroll stop on the F or G.
But this column is about food trucks, and last week I stopped by the Treats Truck to sample a selection of different treats.  I got a Mexican brownie, a raspberry ring and a kitchen sink crispy.
My whole family are big fans of Kim's Mexican brownies, which are $3 each.  Not only is there enough chocolate to satisfy chocolate lovers, but the spices are subtle and incredible!  Mixed into the batter are cinnamon, cloves, chocolate chips, probably a few spices I can't detect, and chili powder.  The chili powder is just enough to tickle the tongue, but not enough to be spicy.
I could eat everything on the Treats Truck, and the Mexican brownies would still be my favorite! The photo may not look like anything special, but take my word for it, the various flavors in this brownie are incredible.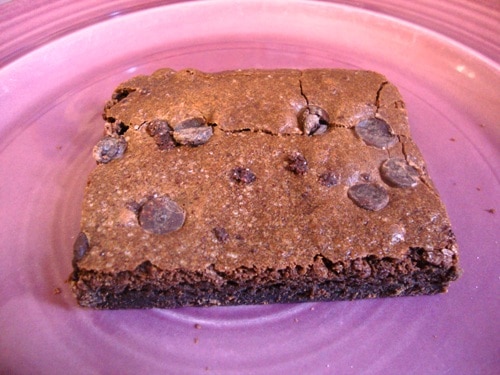 The raspberry rings cost $2 each, and were similar to Linzer tortes, but these had sugar crystals on top instead of confectioners sugar.   On the first bite, I could taste vanilla extract in the cookie dough, and the sugar crystals added a nice crunch.  On the second bite, I got to the delicious raspberry preserves in the center.  Very, very yum!
The last item I tried was the aptly-named kitchen sink crispy.  Baked into the dessert were pretzels, M&M's, chocolate chips, and peanuts.  It was a large cube, which made it a little tricky to eat, but the reward was worth the effort.  There was a little of the sweet & salty thing going on, and every bite had something besides cereal and marshmallow.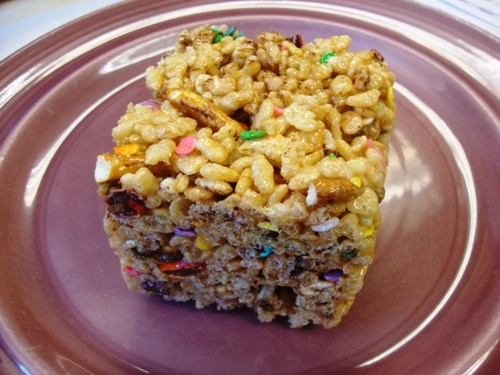 It's easy to see why the Treats Truck is so beloved by New Yorkers.  I've been there many times, and have never been disappointed.  You can see the truck's menu here, although items do rotate.
As of last weekend, you can get all of these goodies and much more at the Treats Truck Stop in Carroll Gardens, Brooklyn.  For a closer look at the shop, click here for a write-up by Blondie & Brownie.
Or you can bake these treats yourself with the Treats Truck Baking Book.  Or you can find the Treats Truck on twitter here or on our Mobile Munchies twitter feed.
There are many ways to get these treats – and they're all good!.