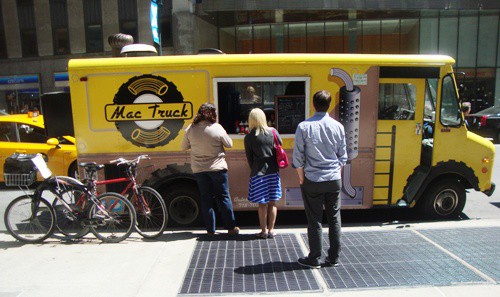 After going to the Mac Truck last month for a buffalo chicken mac & cheese, NYSF reader Jen commented "I'm sure you have since tried the Cheeseburger Mac, but in case you haven't… it is delicious! Get it with the Toasted Crumbs!"
NYSF would not be where it is today if we didn't listen to our readers. We've also learned to listen to the vendors, and Dom had a couple of other suggestions.
"How about making it a bacon cheeseburger mac & cheese with freshly grated parmesan on top?" Talk about an offer you can't refuse!
A small portion goes for $8 and a large is $10. Guess which one we got?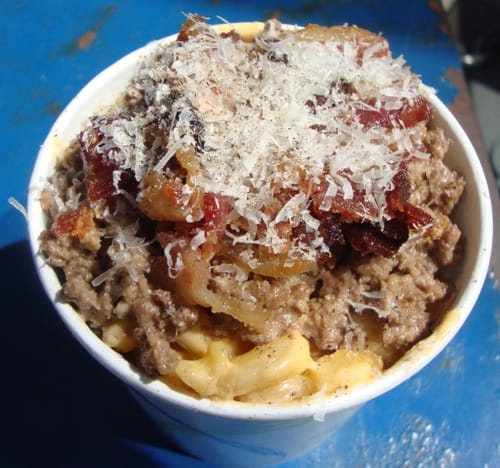 Dom put some ground beef in the bottom of the container, added mac & cheese, then topped it with bacon.
True to his word, Dom took out a grater and actually grated fresh parmesan cheese on top while we watched. Damn, we should have gotten a photo of that. He also ground fresh black pepper on top too.
If you like bacon cheeseburgers, you will love this dish. When we have bacon cheeseburgers, the meat and bun usually overpower the cheese, but not here. At the Mac Truck, cheese is the main attraction, and the beef is secondary.
Of course the bacon flavor comes barreling right though like a…Mack Truck. (You like the way we did that?)
With all the bacon and parmesan cheese, things did get a bit salty. But it was not enough that we can't still heartily recommend this dish for lunch. Just not every day.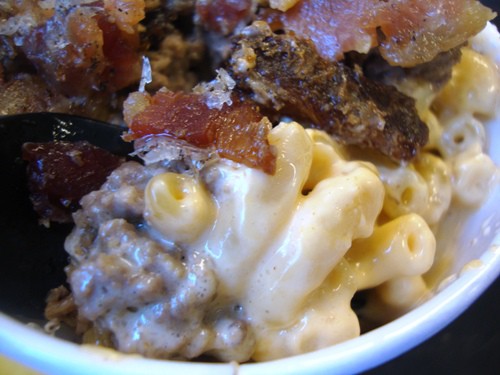 As we said earlier, ground beef was placed on the bottom of the container before the mac & cheese was added. This ensured the last few bites of the meal were as jam-packed with flavor as the first few. Not a lot of vendors worry about the last few bites of your meal.
To find the Mac Truck, check Twitter here or our Mobile Munchies twitter feed. They have made 55th & Broadway a regular stop on Thursdays, so we're pretty psyched about that.