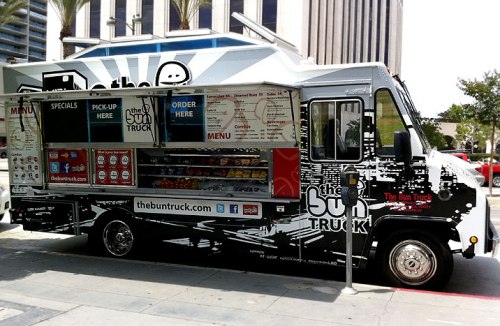 After trying the India Jones Chow Truck at the Food Truck Bazaar in Santa Monica,  we decided to check out The Bun Truck.
Bun have become more popular on the street in recent times, and there are a couple of options in New York too. We have enjoyed bun at both Fun Buns NYC and Chinese Mirch, who were both Vendy Finalists in 2012 in the Rookie of the Year category. Let's see how The Bun Truck compares.
There are several choices of bun, as well as sammiches. You can see their full menu here.
We opted for kalbi (beef) and dweji (spicy pork), which were $3 each. Both had nice twists in the ingredients that made them stand out nicely. Click through to see what they were.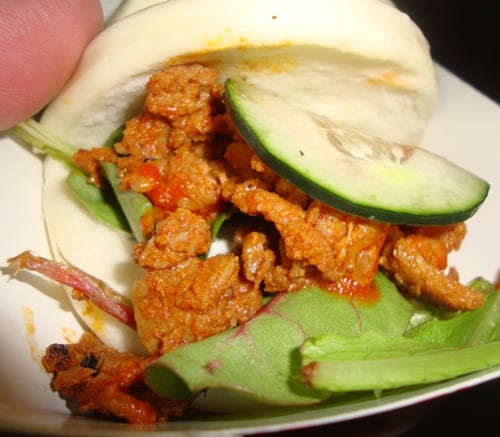 We started with the dweji bun. It had marinated spicy pork, scallions and greens, as you would expect. What we didn't expect was tzaziki sauce! What was a Greek sauce doing on a spicy Asian pork bun?
We don't know who came up with the idea of putting creamy tzaziki sauce on spicy pork, but it was a very good one. You don't see dairy much in Asian cuisines, but the creamy yogurt sauce and slice of cucumber on top were the perfect cooling ingredients for the spicy pork. Add a pillow-soft bun, and you have a delicious dish.
When we ordered the kalbi bun, we knew it was marinated beef, but hadn't really read the menu closely. Topping the bun was an onion ring made with tempura batter.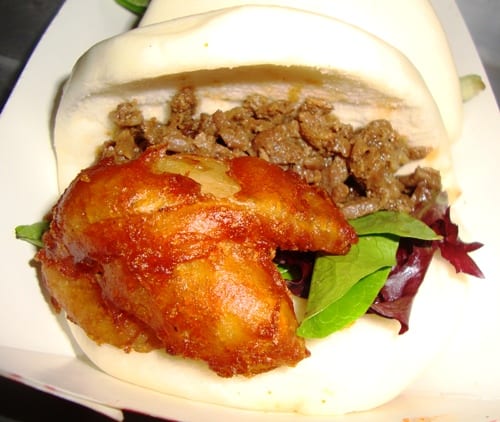 That was another great topping for the bun, although it wasn't as surprising as tzaziki sauce on the dweji bun. Most places that serve beef, from the top steakhouses to BK, serve onion rings with their meat.
This was a thick, juicy onion ring with plenty of tempura batter. It was great with the beef, if still a bit oily.
If you're in the LA area, you can find The Bun Truck on twitter here and their website is here.
We enjoyed their bun a lot. If we get to come here again, next time we want to try the duck fat fries, which are made with garlic and dusted with rosemary.