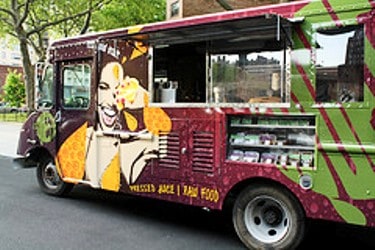 We heard about a new food truck at the Family Street Fair of the Tribeca Film Festival, and that they will be on the NYC streets starting May 17th.
Vanessa Yurkevich of the Local East Village blog that's affiliated with the NY Times  got a sneak preview.
The Squeeze will be the 2nd vegan food truck in the city, as well as the 2nd fresh pressed juice truck.  It was founded by Karliin Brooks, who graduated from N.Y.U. with a degree in Nutrition and Broadcast Journalism and then attended the The Natural Gourmet Institute.
There will be buckwheat popcorn, "Twix" bars made with dates and soybean in lieu of caramel, vegan funyons (pictured below), fresh pressed juices, shakes, salads and more.  You can read Vanessa's full article here.
You can see the full menu on their website here and follow them on twitter here or on our Mobile Munchies twitter feed.