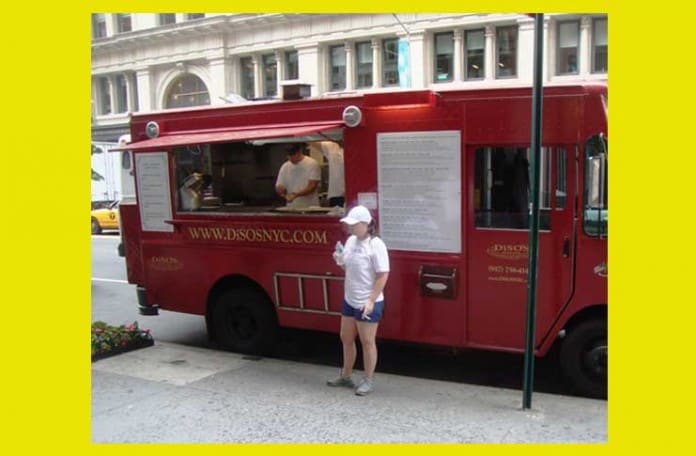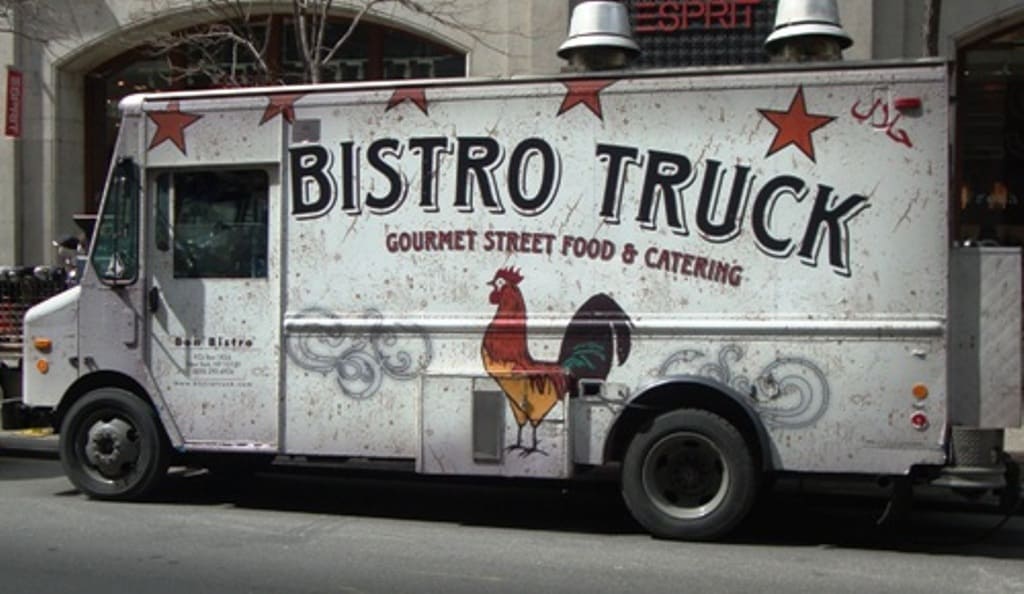 The big news today is the return of Frites 'N' Meats either Friday or next Monday.  It will be great to have them back on the NYC streets.
After a very successful promotion last week giving away thousands of free Jennie-O turkey burgers, Bistro Truck is back to it's old self today on Water St bet Governor & Wall St.
You can also win a free lobster roll a week for a year from the Red Hook Lobster Pound. Details here. And don't forget about the new truck lot in Long Island City, where Taim Mobile is today.  Details below.
As always, check the Mobile Munchies twitter feed before heading out, in case anyone had to move at the last minute.
BistroTruck We are on Water St bet Governor & Wall St. #slightchange From 11.30a until 3p
TaimMobile Long Island City lot opening Mon 8/1 on 43-29 crescent st. Come get food from @TaimMobile @KimchiTruck and @AndysItalianIce from 11a-3.30p
gcnyc1
Gorilla Cheese NYC Monday 8/1–FiDi-Gorilla back to regular schedule….Today – Water & John 11-3:00pm….Come Get Cheesy. This Weeks Melt- -Genoa Salami & Provolone on French….YuM/////. Make ur plans for 2nite: 3-8 Peter Cooper Village/Stuyvesant Town – In the Circle – 14th & Ave. A
Frying_Dutchmen
Monday we will be on Varick and Vandam at 11:30 till 3 pm We will have Vampire Repellant, Sweet N' Spicy, The Big Kahuna, Upstate, Locked N' Loaded, Hells Kitchen Ketchup, The Big Apple Butter, and Dave's Roasted Poblano BBQ Sauce Yum!!!
CalexicoNYC Happy Monday! Bk Bridge and Prince & Wooster are blazin'! No Worth Sqr today 🙁
TheTacoTruck We'll be at @highlinenyc today from 11am-10pm! RT @MiggyMiggs: @TheTacoTruck NEED my taco fix – where are you guys parked today?
waffletruck Magicalicious Monday! Le Truck is on Varick & King til 4:27pm. Do your favorite out-of-date novelty dance for 1 free dinges. Aaaaannndd…CARTS! Le Goesting is on Greenwich & N. Moore Le Bierbeek is at Columbus Circle Le Vedette is on 60 & 5 Le Kotmadam is at le Great Lawn
New Jersey