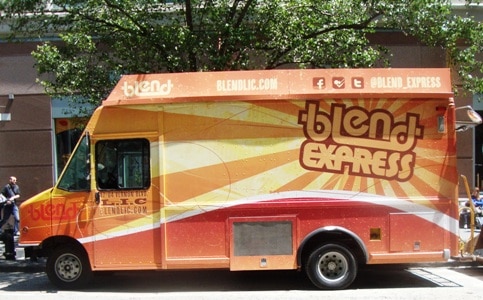 Last week we received a tweet from a new vendor called Blend Express Food Truck saying "i hope you can welcome us to your fraternity…"  The only fraternity we ever belonged to was I Eta Pi (sorry), but we did track them down on Friday for a NYSF First Look.
The menu of the Blend Express Food Truck isn't very large or descriptive, with burritos for $6, bowls for $7 and a Cuban sandwich for $7.  The options were beef, chicken, pork and veggies.
As I usually do with a new truck, I asked the guy in the truck what he suggested.  He said a bowl, and when I asked which meat he recommended, he said "how about a combo?'  Sounds good to me.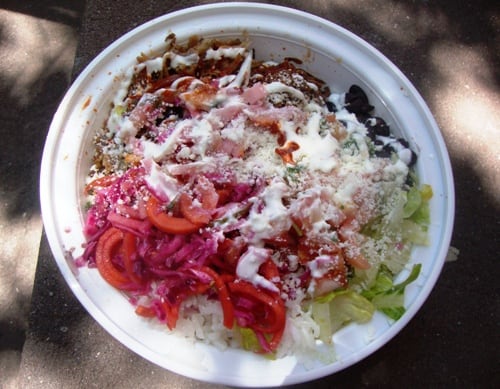 The bag my lunch was packed in said Blend Latin Fusion Cafe, which had a Long Island City address.  With a little research, I found out this was reverse crossover food truck, where the restaurant came first, and they expanded with a truck.
Opening up the container, there was white rice as a base with the three different meats next to each other, black beans and lettuce.   This was all topped with pickled onions and carrots, pico de gallo, crema, a grated cheese (cojita?) and I requested hot sauce.
Starting with the meats, the beef of Blend Express Food Truck was like ropa vieja – slow cooked and shredded, with a light tomato base, and even with a slight bbq flavor.  It was tasty, especially with some of the pickled veggies scooped into the bites.
The pork was along the lines of pernil – roasted and shredded with crispiness on a few of the pieces, and it was dryer than the beef, which is where the crema and hot sauce came in handy.
As for the chicken, it was good, but not as distinctive as the beef (my favorite) or the pork.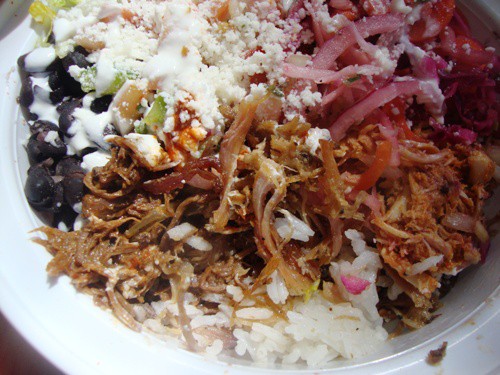 With the rice, beans, meat and toppings, this was a lot of food for $7.  I was pretty full afterwards, and pretty happy too.  There were lots of different flavors that all went together well, and I got to try each of their meats.
Blend Express is a fairly new truck that I went to by Hudson and King, but I believe they hit different neighborhoods.  To find out, you can locate them on twitter here or on our Mobile Munchies twitter feed.