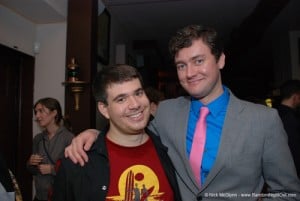 There was an astounding controversy in the recent TIWYF (This Is Why You're Fat) Eat 'N Tweet street food contest.  It was not won by a fat person.
Nick McGlynn (not a fat person) won the recent This Is Why You're Fat Eat 'N Tweet contest, in which the winner had to find six participating street food trucks on twitter, go to each one, and eat the TIWYF concoction made up by said truck.  This was a promotion set up for the release of the book by the same name, and the winner receives a private party for 25 people with the participating street food truck of their choice.
NYSF spoke with the book's publisher about the controversy, about which they said: "Of course the TIWYF contest was not won by a fat person.  The winner had to run around to six different food trucks in order to win, and we would not expect a fat person to have the advantage in this type of contest."
We tried to ask the winner for a comment, but he was temporarily indisposed.
[Nick McGlynn]
[TIWYF Book]