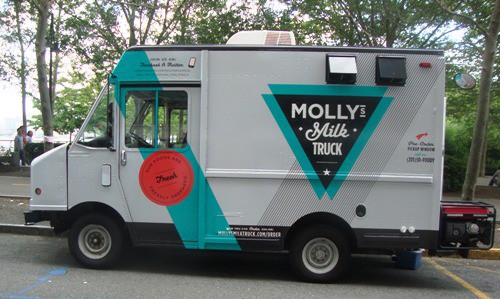 Earlier this year, we told you about a new truck that was coming to Hoboken called Molly's Milk Truck.  They opened a few weeks ago, but it's tough for us to get out to Hoboken for lunch.  A few days ago, we finally made it.
The concept behind Molly's is a food truck that serves healthy food.  Much of what they serve is of the low-fat and low-sodium variety, and they don't use mayo in any of the food, not even tuna salad.  The question is whether the quality would suffer from these limitations.
We got there about 10 minutes before they closed at 3pm, and several choices were sold out.  One of the partners in the venture, Hoda, suggested a turkey burger for $5 (plus $1 for cheese) and an iced coffee for $3.  That sounded perfect for the 2nd day of Burger Week, and our First Look at Molly's Milk Truck.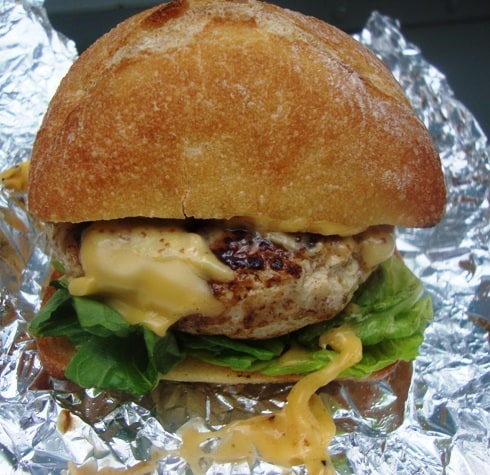 The burger was made with white meat turkey, and it was thick and nicely grilled.  I'm not usually a big fan of turkey burgers, which can be dry and boring, but this was one of the juicier and well-seasoned turkey burgers I've had.
In addition to lettuce, tomato and low-sodium American cheese, the burger had a homemade honey dijon sauce that was a good choice as a condiment for the turkey burger.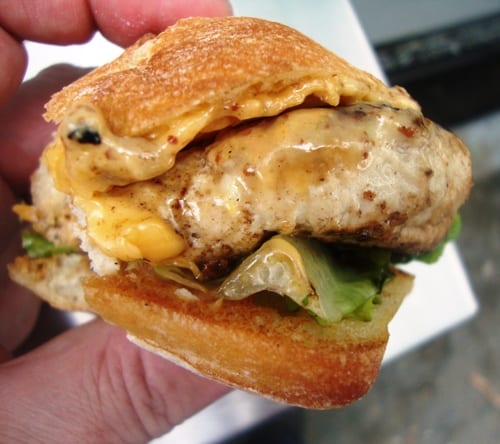 Low-sodium American cheese was another question I had.  Past experiences were not so great.  The low-sodium American cheese at Molly's had a nice, strong flavor and wasn't wimpy.  It melted well too.
The fresh ciabatta bun was a good vehicle for the turkey burger, holding everything together just fine with a good taste and texture.
The iced coffee was very tasty too.  It was made with triple-strength coffee, cinnamon, vanilla, almond milk and agave syrup instead of sugar.  The sticker on the cup that said "F'in Delicious" was pretty accurate.
For now Molly's Milk Truck is in Hoboken, generally on Sinatra Drive around 1st St.  We'll have to see if these new regulations in Hoboken become a problem for them.
You can follow Molly's Milk Truck on twitter here, facebook is here and the website is here.  We have also added them to our Mobile Munchies twitter feed here.
As for the menu, it changes every day, but there are some favorites that reappear pretty often, like the mayoless tuna melt.  You can see the food menu and the drink menu from the day we were there to get a good idea of what Molly's serves.
Healthy food does not have to be tasteless food, if it's done right.