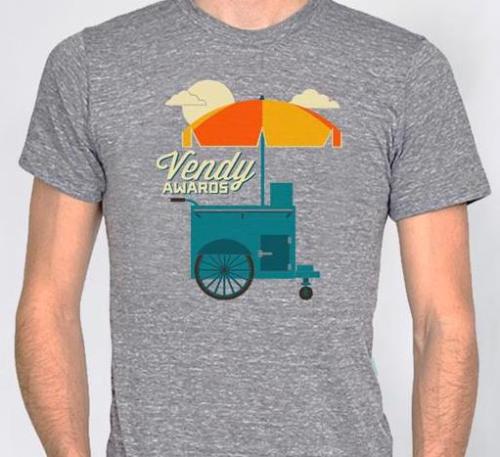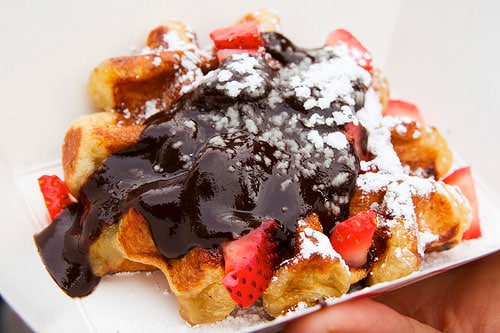 If you're not going to the Vendy Awards this Saturday (9/24), here are a few other options for interesting things to do.
At the Southeastern-most entrance to Central Park on 5th Ave & 59th St, Mexicue, Wafels & Dinges and Good To Go Organics will be at the finish line of the Fifth Avenue Mile.  The event runs from 8:45am to 1:30pm, and these three trucks will be part of the post-finish festivities, which are open to the general public.
Schnitzel & Things and Green Pirate Juice Truck are going to be at the DUMBO Arts Festival.  The DUMBO Arts Festival attracts 200,000 visitors over 3 days with the participation of over 500 artists from a variety of disciplines, 100 studios, 50 galleries and stages and 100 programming partners.
This year, the Festival will take place on Friday, September 23rd, Saturday, September 24th and Sunday, September 25th. The official Festival hours are Friday 6pm to 9pm, Saturday 12pm to 8pm, Sunday 12pm to 6pm and 6pm to midnight all three nights for all outdoor projections.
Art revelers can enjoy: visiting artists in their studios or making murals on the street; musicians, dancers, poets, performance and circus artists throughout the neighborhood, on street corners, sidewalk stages and in the park; communing with instrument makers in workshops; hearing from tech gurus about the latest advances; and joining walking tours to hear city historians share little-known stories of the neighborhood.
The official festival website is here.
If you love eating crabs and drinking booze (and who doesn't), the Hammer & Claws Blue Crab Feast takes place from Fri-Sun at The Tunnel on 11th Ave between 27th & 28th St.  Tickets are not cheap ($118), but includes all you can eat blue crabs, all you can drink craft beer and specialty cocktails, and other classic items like hamburgers, hotdogs, and traditional sides such as coleslaw, potatoes, and corn on the cob.
You can see the full menu
here
and the website is
here
, but you have to buy tickets in advance.  They will not be selling them at the door.