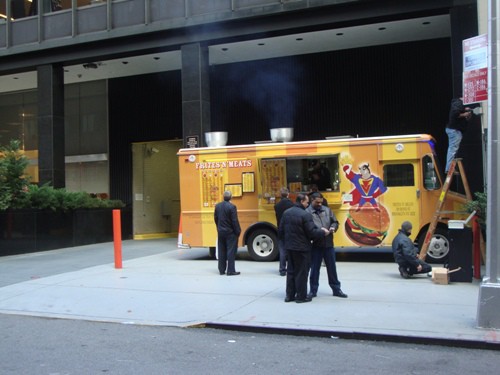 A new, legal food truck spot opened recently in Midtown East. As you know, it is technically illegal to sell "merchandise" from a truck parked at a metered spot. That includes food.
We were able to stop by this new location for lunch one day last week, when Frites 'N' Meats were there.
Sage Realty, the managers of 777 Third Ave, have one food truck per day parked in front of their loading dock, which is on the side of the building on 48th St, just east of Third Ave.  Rent for the spot is reportedly $150 per day. That's around $3,000 a month the building didn't have before this deal.
This new food truck spot was organized by Dispatch NY, which is working on developing a network of food truck lots in NYC that operate within the strict confines of the law.
Ten food trucks will rotate in this spot, but there is only room for one food truck per day. Lunch hours are from 11am – 2:30pm.
Sage Realty will be promoting the new food trucks in its buildings, and setting up a food truck camera so that office workers can see how long the lines are before heading downstairs. The guy on the ladder was actually working on it while we were there.
The folks at Sage will also be including a page about the trucks on its website, where tenants can even order lunch.
Nice job Sage Realty. Anything that helps food trucks become a permanent part of the lunch scene is welcome.
There's even a small park with seating for about 20 people across 48th Street, next to the Wells Fargo Building. We enjoyed an El Cubano burger there last week.