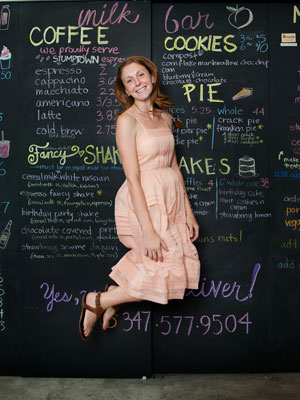 We're not the first ones to write about this, but in case you haven't heard, Christina Tosi (above), owner & founder of Momofuku Milk Bar, will hit the streets of NYC in a holiday cookie truck handing out thousands of her famous cookies to make people's days. And she will be joined by her mother!
The truck, which was provided by American Express, will be making 4 stops in Manhattan and 2 in Brooklyn.
Christina and her Mom will be giving out three varieties of cookie: Chocolate-Chocolate Cookie, Cornflake Chocolate Chip Marshmellow Cookie and Compost Cookie.
Momofuku Milk Bar Cookie Truck Schedule
11:00am to 11:45am – Stop 1: Central Park South – Columbus Circle Area
12:10pm to 12:55pm – Stop 2: Madison Square Park Area
1:20pm to 2:05pm – Stop 3: Union Square- 16th St & Union Sq West
2:30pm to 3:15pm – Stop 4: SoHo- Houston St & Greene St
3:40pm to 4:25pm – Stop 5: Williamsburg- Bedford Ave & North 7th St
4:50pm to 5:35pm – Stop 6: Fort Greene Park- Cumberland St & Dekalb Ave
Enjoy, and follow on twitter at #AmexMakeMyDay.