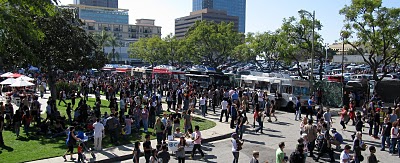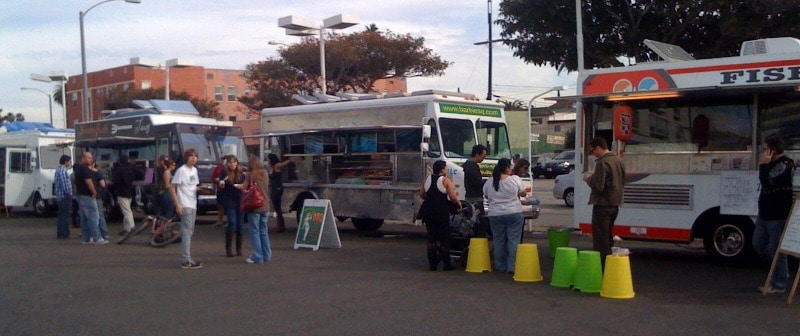 For those NYSF readers who have been around a while, you may recall a post we did in early January about a parking lot in Santa Monica, CA (above) where the owner was trying to set up a place for food trucks to park and serve without any hassles.  Well, that didn't last long, as it was closed down on its 1st day of business.
LAist reports that last month, the city's planning department agreed to give out three-month temporary use permits for food truck lots on private property.  The city would monitor the effects of the operations on neighborhoods before finalizing a permanent solution.
The first lot will open next Tuesday evening (28th) at the California Heritage Museum at Ocean Park and Main (map) from 5:30 to 10 pm, according to Matt Geller of the Southern California Mobile Food Vendors Association. The weekly event will run for up to three months.  The non-profit museum will benefit from not only exposure, but money raised by leasing the space.
As an added bonus, the attached Victorian Bar will provide seating and drinks. "It will be the first time we'll have a sit down food truck lot where patrons can buy alcohol," said Geller.
The trucks slated to appear next Tuesday include Nom Nom, No Reservations, Coolhaus, Don Chow Tacos, Ahn -Joo, India Jones, Phamich and Calbi. [LAist]
Now that's a reasonable solution.  Let's actually try something and monitor it before deciding whether to license it or ban it.  Good start Santa Monica!