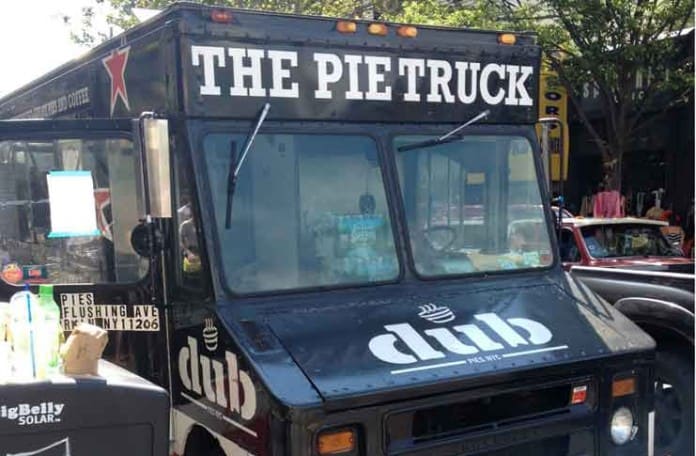 ​
When it comes to great food discoveries, it can often be just a matter of checking something out while you're waiting for someone. And haven't we all been there?
In this case, I was waiting on a friend at the intersection of Bedford Avenue and North 7th Street in Williamsburg on a perfect summer Saturday.
Their transportation delay led me to getting a taste of some comfort food from an area halfway around the world – Australia and New Zealand to be precise. And I only had to walk a few feet through the constant swarm of hipsters and tourists to check out the Dub Pies Pie Truck perched by the curb and just opening up for business.
The Pie Truck is the mobile outpost for the Down Under Bakery, established in 2003 which has been the provider of the "meat pie". The "meat pie" is a staple of Australian and New Zealand cuisine, done with a gourmet flair and judging by the reviews, now a beloved part of New York City's food scene. The Pie Truck is a little over a year old and a good way to sample their wares if you can't get to the brick & mortar location over on Prospect Park West in Brooklyn.
I stepped up to The Pie Truck and took a look at their extensive menu before settling on the beef and cheddar pie.
The beef and cheddar pie costs $7, and is a nice little handful. But don't let the diminutive size fool you one bit. The meat pie is wickedly delicious from the first bite and full of rich flavor. The minced beef carries a robust taste that is still delicate. The gravy and the white cheddar are blended nicely and help the pie maintain its appeal throughout. The key part here is the pie's shell – not too flaky and laden with golden butter that brings out the crispness. Dub Pies' classic New York Shepard's Pie – made with beef instead of the traditional lamb – is also a must-have when you check out the truck, and will cost $8.
Fear not, meat non-eaters.
They've also got a "curry vegetarian" standard at $7 which will leave you quite happy. If you want to go for sweet instead of savory, go for one of their dessert pies like the Down South-inspired peaches & cream pie which will also cost about $8 or $9.
And lastly, try an ANZAC cookie – at $2 it's a tasty sweet biscuit that was first made for troops in the region in World War I and soon became a household delicacy. No matter if you check it out in the hazy days of summer or the brisk embrace of the fall, The Pie Truck will definitely warm your tastebuds with their food.
​