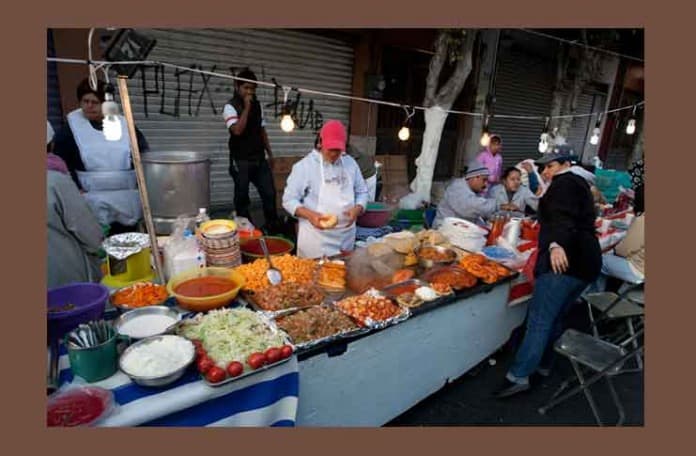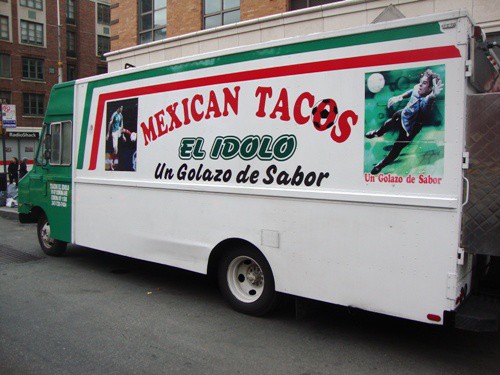 I had to pick up dinner last night on the way home, and the El Idolo taco truck was parked on 6th Ave just north of West 4th St. They don't tweet their locations, but are often in this spot on evenings and weekends on the east side of 6th Ave, a block up from the basketball courts by West 3rd St.
I've had tacos and huaraches from El Idolo, which were pretty good.  Not amazing, but pretty good.  Last night I needed dinner and decided to get something heavier than a couple of tacos.
A couple of people in front of me got cemitas (sandwiches), which looked tasty. I almost got one – but changed my mind at the last minute to a chicken tinga burrito ($7), which came with a small salad of lettuce and avocado.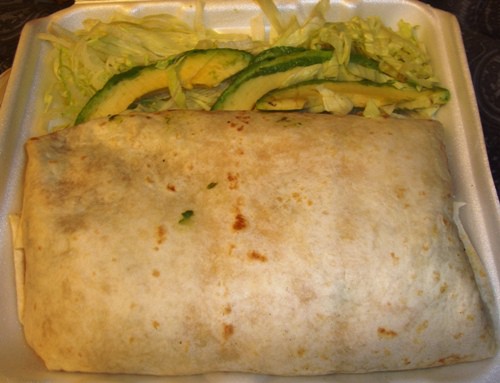 The marinated chicken tinga (spicy chicken) was grilled on the flat-top, then chopped and placed on a large, flat tortilla. Added on top of the chicken were orange rice, cheese, onions, bell peppers, red chili peppers, salsa picante and sour cream.  The tortilla was folded tightly and placed in a container.
It was a good thing they included a knife and fork, because there was no way to pick up this burrito with my hands.  It's hard to tell from the picture, but this burrito was so overstuffed, I had no choice but to use a fork and knife.
From the first bite until the last, this was a SPICY burrito.  Between the chicken tinga, the salsa picante, and the chili peppers, this burrito was one of the hottest I've eaten – but the taste of the chicken, onions, rice and sour cream still came through.  The sour cream spread through much of the burrito, adding a nice creaminess on about half the bites.
I don't usually eat much of the side salads served with street food, but the iceberg lettuce and sliced avocado acted as a coolant for my mouth in this case.  I was glad they were included.
The chicken tinga burrito from El Idolo was a good deal at $7.  It was packed to the max with good, spicy food, which was the right amount for dinner. If this was lunch, I would have been asleep at my desk by 3pm.
If you're in the Village on 6th Ave just above West 4th St, El Idolo is a good option for a light snack (tacos), lunch (cemitas) or dinner (burritos).