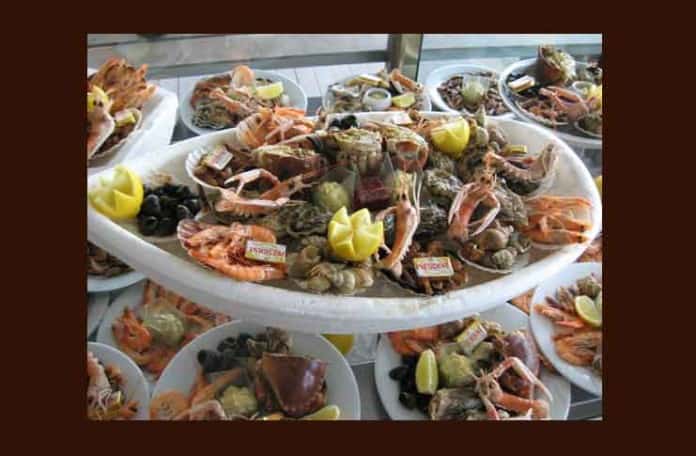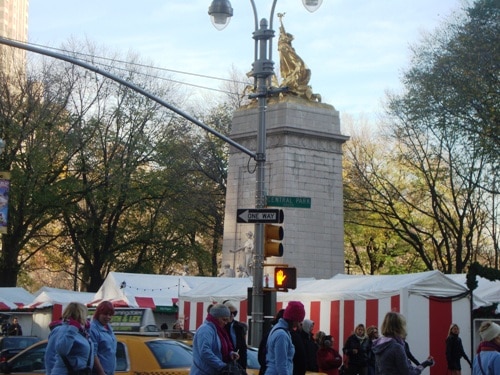 The Columbus Circle Holiday Market opened yesterday, giving us some new lunch options for a few weeks.
I was disappointed to see that my favorite vendor from last year Pies -N- Thighs didn't return – but there are still a few good-looking choices, even though the person doing the booking quite obviously screwed up in one respect.
Two  of the five lunch places  – Sonrisa Empanadas and Sizzles – serve empanadas.  If I was the owner of one of these booths, I would be quite pissed off.
Not that I don't like empanadas, I do – but 2 empanada booths so close to each other makes no sense.  Nevertheless, we will probably try them both over the next few weeks.  In addition to the usual beef, chicken and veggie empanadas, I also saw some left-field choices like coconut curry chicken empanadas.
Other places for lunch were the Red Basil Thai Kitchen stand that I definitely want to try, German Delight Bratwurst that we enjoyed last year, and Mmm…Enfes that we actually had a few days ago at the Bryant Park Holiday Market.
If you're looking for dessert or a snack,  Sigmund Pretzelshop has a booth, as does Wafels & Dinges.
If you eat too much and need to walk around, I'm sure you can find a few things to shop for at the Columbus Circle Holiday Market.
Click here for more info on the market itself, such as hours and vendors.