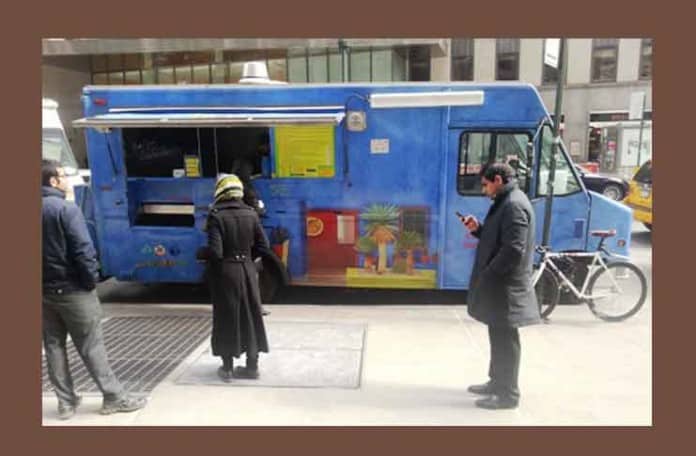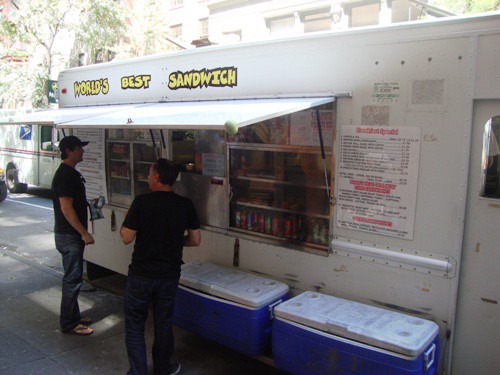 Yes, it's another sunny, cool day.  Perfect for enjoying great New York Street Food from the vendors on the right and the trucks below.
Want to get a free Whoopie Pie for dessert?  Dust off your vocal cords and be one of the first 25 people to sing a Xmas/Chanukah song to the lobsterettes Red Hook Lobster Truck on 45th btw 5th & 6th Ave.
As always, check the Mobile Munchies twitter feed before heading out, in case anyone had to move at the last minute.
lobstertrucknyRed Hook Lobster Docked on 46th between 5 and 6! First 25 people to sing an Xmas/Chanukah song to our lobsterettes gets a free Whoopie Pie w/lunch!
CoolhausNY
Goodmorning NYC! Coolhaus is park on 22nd and 6th ave today! Come and get it! Ice creams for the day are sweet potato, pumpkin spice, Nutella Almond, brownbutter bacon, blood orange, guniess chip, and strawberry!! We also have the yummiest hot chocolate in town!! Netulla Almond, and dirty mint! Come try! Yaay!
milktrucknyc
a perfect confluence of grilled cheese & soup occurring at Wall & William right now.
Mexicue
57th and 6th ave today…it's casual Friday so you don't need to worry about getting BBQ on your finest office duds. TGiF indeed.
VeganLunchTruckThe Cinnamon Snail Parked on Sinatra and first in Hoboken until 3:00 We have sage butter grilled tofu with chestnut roasted garlic… fb.me/1i5SBXQXZ
TheTacoTruck We'll be at Exchange Place today! RT @richardoftheyr: @TheTacoTruck please tell me you'll be at exchange place today.
TwoPitasInAPod Hoboken. Lunch today. Will post when docked. Truffly, shrooms, arugula, feta burger will make a guest appearance today.
TheKrave Friday – 12:00-2:00 Hudson and Harborside Pl. 5:30-9:00 Columbus and Marin tmblr.co/ZyfrWyCilL7Q