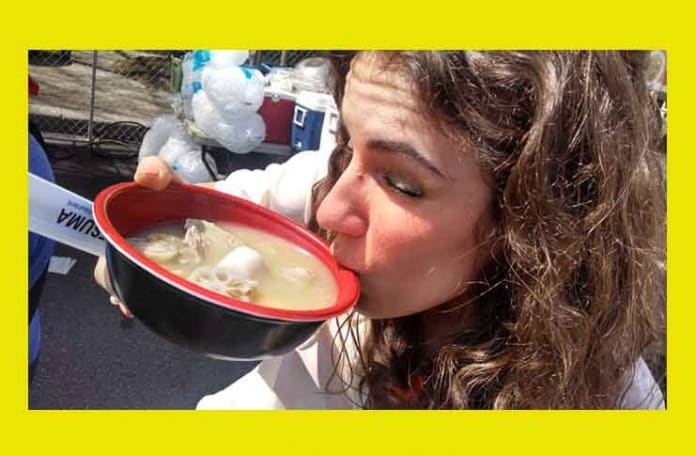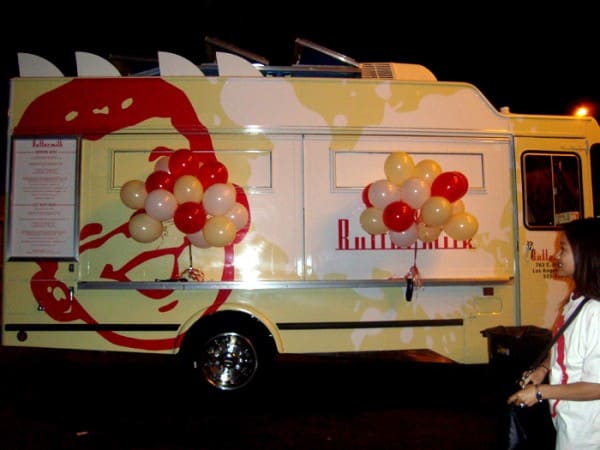 The organizers of the upcoming 1st Annual LA Street Food Fest on Sat, Feb. 13th have announced additional details.  So far, 36 street food vendors have been named, and there will be over 30 local designers and artists in the UNIQUE LA Marketplace.  There will be Taco Trucks, Cupcake Trucks, Ice Cream Trucks, Korean BBQ Trucks, Vegan Trucks, Fruit Carts, Hot Dog Carts and loads more. [LA Street Food Fest]
LAist lists the street food and design vendors as follows:
FOOD VENDORS
Komodo Food, Antojitos Abuelita, Antojitos Carmen, Flying Pig Truck, Fishlips, India Jones Truck, Coolhaus, The Sweets Truck, Slice Truck, Piaggio on Wheels, Nina's Foods, Rudolfo's Barbacoa, Hello Lupe Sweet Crepes, Buttermilk Truck, Nom Nom Truck, Kabob N' Roll, Dell's Lemonade, Fresser's Pastrami, Sabor de Bahia, Frysmith, Uncle Lao's Hawaiian BBQ, Don Chow Tacos, Mama Koh's Korean Chicken, Dogzilla, Monsieur Egg, Tasty Meat, Grilled Cheese Truck, The Franken Stand, King Kone, Louks, Gastrobus, Get Shaved, Yum Yum Bowls, the popshop, QzillaBBQ, Surprise Chef Pop-Up Truck (TBA!)
DESIGN VENDORS
Paper Pastries, Mr Toast, Spicy Brown, Leanna Lin Jewelry, Mincing Mockingbird/Frantic Meerkat, p.o.p. candy co., Punky Bunny Designs, Plastique, Steppie, The Quilting Mama, Blue Dahlia (aka hallo jak), 33stewartavenue, Three Apparel, Make Shop Live, Dip It Designs, Rebe, Baby Eggi, London Manori, Blue Platypus, LOVMELY ACCESSORIES, THE DRAM!, Stylesmith, FLEA MARKET GIRL Jennifer Shon Jewelry, Kiki Designs, Sweet Siren Design, V is for violet, STUDIO ROOT66, Cara Lyndon Vintage Re Crafted Jewelry, JENKINS JELLIES, Suburban riot, My Mishion.
Details
What: the 1st Annual  LA Street Food Fest
When: February 13th, 11am – 5pm
Cost: Tickets at the door or day of the event.
$5 General Admission entry (entry to the festival, a free drink ticket, cool giveaways)
$30 VIP entry (Above street-level patio with a bird's eye view of the festival, a premium gift bag, luxe street food from a surprise chef guest, a private bar, access to indoor restrooms, and more)
Where: LA CENTER STUDIOS
Enter on 500 S. Beaudry Ave
Los Angeles, CA 90017