The diversity of New York will mesmerize you. From food trucks, street food stalls around the bustling neighborhoods, the art museums to visit, and the iconic coffee shops in the busy streets to its jungle of skyscrapers. What's impressive with some of these skyscrapers are their enchanting views and the chance to dine at the highest peaks of NYC.
Yes, there are restaurants with skyscraper views in New York City. From seafood and steak to Korean and other Asian cuisines, the following restaurants offer a captivating view of the city skyscrapers.
Our Favorite New York Restaurants With Skyscraper Views:
Peak
Dine at the summit of a 1296-foot tall tower; Peak is on the 101st floor of 30 Hudson Yards. Apart from its skyscraper view and vibrant atmosphere, enjoy its elevated menu. You can have modern American cuisine and a cocktail while viewing the Statue of Liberty and the NYC skyline.
The American Cuisine at the Peak focuses on three categories: land, sea, and garden. New York City's diverse cuisines inspire its ingredients, and Peak's menu highlights vegan, vegetarian, and gluten-free options as well.
Westlight
On top of the famous William Vale Hotel in Brooklyn, Westlight NYC is located on its 22nd floor. You can enjoy your meal with a complete panoramic view of the city's skyline. Westlight is more of a rooftop bar than a full-blown rooftop restaurant. If you're here to unwind, you will surely enjoy the impressive and dynamic selection of their craft beer and rare spirits.
The menu in Westlight is diverse. You can choose from Asian cuisine to modern American cuisine. As it is the perfect rooftop restaurant for most occasions, it is best to make a reservation to ensure you have a table when you get there.
Check out this video to get a glimpse of the view:
Gaonnuri
Have you ever wondered how it feels to devour Kimchi and Samgyupsal with a skyscraper view? It feels surreal! If you're a Korean visiting New York or just fond of Korean culture and food, Gaonnuri is a must-go restaurant!
You can visit Gaonnuri at the center of Koreatown. You'll find a wide range of meat, warm soups, appetizers, and other special dishes on the menu.
Enjoy Korean cuisine with— not Soju, but a glass of wine, and get mesmerized by the New York City skyline.
RH Rooftop Restaurant
You will be mesmerized by the exterior design of this upscale furniture store, the Restoration Hardware Rooftop Restaurant. On top of the five floors filled with tools and home styles, you'll find a rooftop restaurant on its sixth floor.
Enjoy dining on this open-air terrace with the best views of downtown Manhattan. We recommend their lobster roll, charred ribeye steak, and signature RH burger. You may also complement your meal with their craft beer or artisanal wine.
RH Rooftop Restaurant is a great spot for any occasion, be it a business lunch, company dinner, or special occasion with your loved one.
Cantina Rooftop
A colorful year-round rooftop restaurant and bar in the Hell's Kitchen of Manhattan. You can enjoy a mix of authentic Mexican food with the panoramic views of the New York City skyline. It is a great venue for hangouts or dates, and it is pretty much the perfect place.
We recommend you try their Don Diego Santa Skull Margarita. If you plan to visit Cantina, ensure to make reservations. Cantina Rooftop is one of the loveliest rooftop brunch spots you can visit in New York City.
230 Fifth
230 Fifth is one of the most famous rooftops in New York City. It is not the fancy dining experience you might think of. Most events are for weekend brunches and a nightlife vibe. It's definitely a must-try and one of the top places to have a rooftop brunch in New York.
They have an impressive menu. While grabbing a bite of their famous beef sliders and burger, you can enjoy the magnificent view of the Manhattan skyline and the Empire State Building.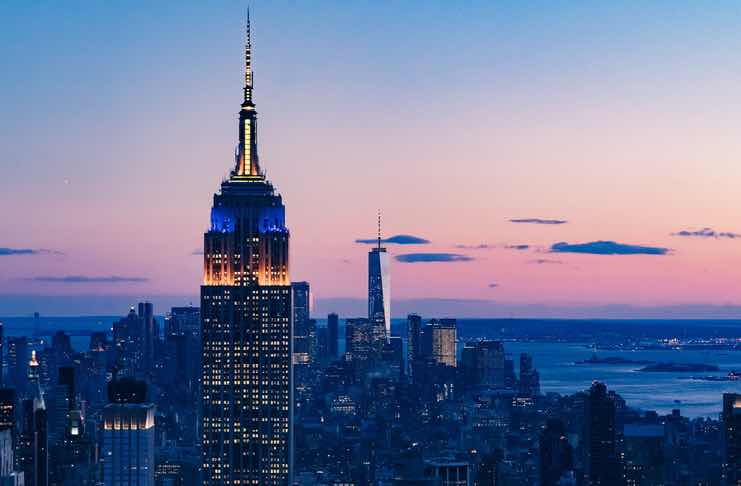 Manhatta
If you want to try the spirit of a true New Yorker, visit the Manhatta on 28 Liberty Street. This fine dining restaurant is perched 60 floors up above Lower Manhattan. Apart from its diverse cuisine, Manhatta has a large and deeper collection of International wines and spirits. Enjoy your dining experience at Manhatta, and they say once you experience the party, you will want to return the next day after.
Electric Lemon
This cool place is a seasonal American restaurant perched on the 24th floor of Equinox Hotel. The venue is quite amazing. It's the newest and trendiest restaurant in Hudson Yards. Apart from enjoying the skyline, you can appreciate the monumental sculpture of Jaume Plensa.
Electric Lemon has a unique system on its menu. The food menu is available during weekday lunch and daily dinner only. During weekends, make reservations to have a table on the terrace.
Social Drink & Food
On the fourth floor of YOTEL, an al fresco terrace in one of the largest outdoor hotel terraces in New York. The outdoor hotel space is huge, and it can cater to about 400 people. Social Drink & Food is open daily for lunch and dinner, which is the best time for a popular after-work spot. It is not the usual fancy dinner you imagine at the top of the world. Instead, it's one of the best places to grab some food and drinks with an amazing view.
Social Drink & Food has a top-notch menu of global-inspired street food. Choose the food you are most curious about.
SAGA
Walking in the streets of the Financial District? If you are nearby, you can visit SAGA. It's perched on the 63rd floor of 70 Pine Street. The food served at SAGA is inspired by European techniques. You won't regret the dining experience you'll have at the SAGA.
These restaurants in New York with skyscraper views are best to visit during warmer weather. You can either have causal dining with your friends or family or have a booked dinner date with your special someone. Whatever reason you are there, enjoy the food and wine! Just a tip, if wine spills may happen during your date, do not panic. Pre-treat the stain and continue removing the stain at home before sending it to a laundry delivery service near by.
After a breathtaking experience, why not try the diverse street foods around New York City?