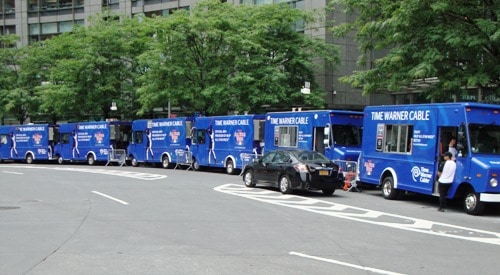 If you're into baseball, you already know the MLB All-Star Game is being played next week at Citi Field. If you're not, you still may have noticed some big activities around town, including a bunch of food trucks co-branded for the MLB All-Star Game and Time Warner Cable.
Yesterday by the Time Warner Center in Columbus Circle, there were half a dozen food trucks serving food from various baseball stadia around the country. Not only were they serving lunch, a drink and chips for $5, but all proceeds are being donated to the Robin Hood Foundation Sandy Relief Fund.
From what we were told by several people at the event, there will be trucks serving food from all 30 Major League Baseball stadia around the NYC area for the next few days. Damned if we can find any info on when and where. There's nothing on the MLB All Star Game website. Good job guys!
So great! MT @twc_nynj: Proud to partner w/@RobinHoodNYC 4 #AllStar Week! Food truck proceeds benefit #Sandyrelief http://t.co/9MjlM4ZXfJ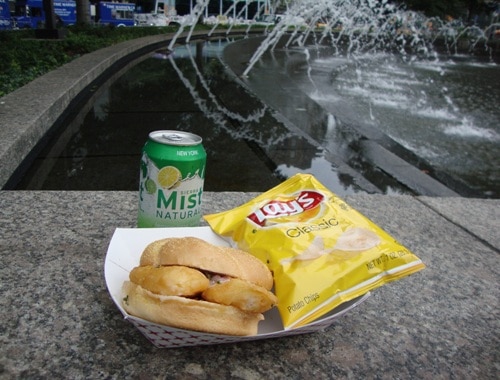 We got a Miami fish sandwich, but there was also NY pizza, San Diego sausage and peppers, and Kansas City pulled pork BBQ from the other trucks we saw.
There were actually two pieces of deep-fried fish topped with some red onions and a mayo-based sauce.