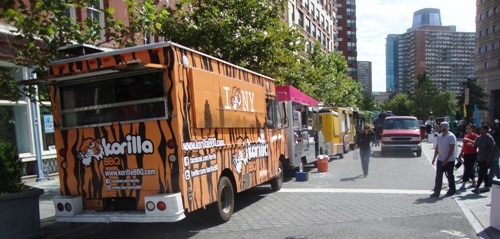 With the big holiday weekend upon us, we've been thinking about some of the upcoming events and festivals in the NYC area.
Here's one you're going to want to mark on your calendar.  Twelve of the best food trucks in the NYC area will all be converging in Jersey City on Saturday, Sept. 29th for the 2nd Annual All About Downtown Festival.
Last year's inaugural event was such a success, this year they have extended the hours to 10pm.  Now you can enjoy these amazing food trucks for lunch, dinner and dessert!
And the best thing is it's FREE to attend, with food and drinks pay-as-you-go.  There will be beer and wine available too.
Click through for a complete list of the food trucks that are confirmed, some of the other activities available, and to see just how easy it is to get there.
All About Downtown will feature dozens of local artists and artisans, merchants, nonprofits and other vendors.  There is a full lineup of live music scheduled, and plenty of family friendly fun, like face painting, storytelling and a bounce house.
For adults, beer and wine will be available, as one of the event sponsors is Barcade.  New York Street Food is also a co-sponsor of this event, and we are really looking forward to it.
The following 12 food trucks are confirmed for the 2012 All About Downtown Festival:
Korilla BBQ – Red Hook Lobster Pound – Souvlaki GR – The Taco Truck – Wafels & Dinges –  Coolhaus – Kelvin Natural Slush Co – Two Pitas In A Pod – Morris Grilled Cheese – Marky Ramone's Cruisin' Kitchen – Phil's Steaks – Taste of India.
How's that for a lineup?
The festival runs from the Grove Street PATH Plaza, along Newark Avenue, and west to Jersey Avenue.  All you have to do from Manhattan is hop on the PATH train to the Grove St station in Jersey City.  It's only 2 stops from Manhattan, and they even accept MetroCards on the PATH.  I don't know NJ well, and was surprised last year at how easy it was to get there and back.
Saturday, Sept 29th from 11am-10pm.  Mark it on your calendar now. We'll see you there!