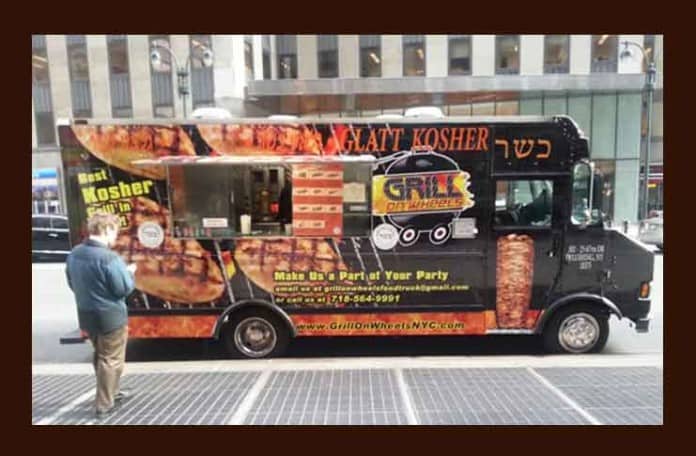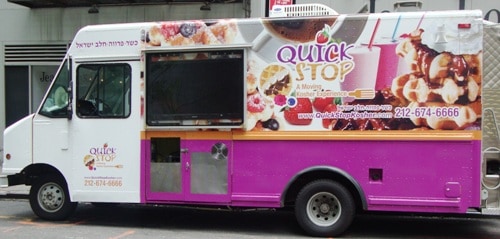 The worst of the storm appears to be over.  Some New York Street Food vendors made it out today – the trucks below and the carts on the right – so give them your business.  If you don't see a food truck below, they probably didn't make it out.
Some of the trucks offer pre-ordering by phone. We highly recommend it!
It's a perfect day for soup – agfolemono from Uncle Gussy's, split pea from Comme Ci Comme Ca and tomato basil from Eddie's Pizza.
And make sure to check the Mobile Munchies twitter feed before heading out in case anyone had to move at the last minute.
quickstopkosher Open today as usual let's compare with the weather slushy prices on breakfast and falafel. Get slushy 20% off 34 str and 9 ave @ B&H
fritesnmeats Lunch today @ Hudson & king burger of the week THE SPICY JAZZ preorder 9172929226
UncleGussys
Yea we made it out here. Were grillin on 51 st and park, step out of the office and grab some lunch;) Afgolemono soup hot and ready to serve. A lil ice won't stop us
Comme Ci, Comme Ça
is on 55th St Between Park and Madison Ave today! Need to defrost? Try our Split Pea Soup! $3
BistroTruck
We will be out today. Service starts at 11AM. Preorder at 800-290-4924, then pickup in 10min.
waffletruck
Wafel Wednesday is here! We are on Hanover btwn Water & Pearl until 4:24. Bring a little sunshine to your day with a Lemon Essence Wafel. Available all day at the Truck and Mini-truck! Quote us a Vanilla Ice lyric for 1 free dinges!
EddiesPizzaNY
We r on 46th fand 6th until 3pm. We've got spinach, artichoke, garlic special plus hero's and tomato basil soup. Stay warm and call ahead your order. 917-439-7522