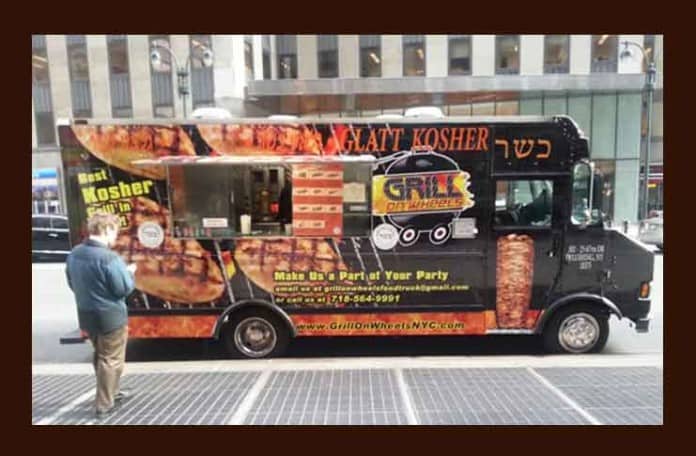 Wafels & Dinges is bringing back their maple sausage 'n gravy wafel this week, and they will be downtown at Hanover Square today.  We loved their recent chili con corne wafel, and this one sounds like a winner, too.
Everybody Likes Free (and discounts): Sweetery has free mini ice cream sandwiches courtesy of Tenka.  Click here for details.  And the Quick Stop Kosher truck has a special with jdeal for $15 worth of food for $7.50. Click here for details.
By the way, Eddie's Pizza Truck is off the road this week for repairs, but expects to be back on the street next Monday.
As always, check the Mobile Munchies twitter feed before heading out, in case anyone had to move at the last minute.
SweeteryNYC Gd morning midtown east. Sweetery is on 52St & Lex all day. Want an insanely good free mini ice cream sandwich? Sweetery & Tenka.com r giving them away while they last http://alturl.com/jnfrp
UncleGussys
Good morning all. A brisk day in NYC, but that's not stopping us;) Today were grilling up a variety, chicken, chicken breast, pork souvlaki, pork sausage, and Lamb gyro. Today's soup is lentil, freshly prepared by mom.
TaimMobile
Good morning midtown ! Today were on 51st btwn 6th + 7th. Between the atrium and 6th ave. Daily special is kalamata olive falafel !
waffletruck
Wafel Wednesday! Truck is on Hanover Sq btw Water/Pearl until 4:27. Maple sausage 'n gravy waffle is B-A-C-K today & for the rest of the week – in the Hanover Square truck today. Free Dinges if you say Cristina Aguilera backwards! Carrrrrrrts! Goesting at Greenwich & Murray until 6. Vedette at 60th and 5th Ave (Central Park Zoo ent.) until 5!
fritesnmeats
Lunch today @ Hudson & king.  burger of the week THE SOUTHWEST FUSION grassfed angus patty pepper jack cheese spicy guacamole applewood smoked bacon & homemade sweet chili sauce. Come get some homemade killa homemade beef soup and deserts to warm u up 🙂
joyridetruck
It's a joyful day at Hudson & King. The @
stumptowncoffee
is brewing, the sun is out, and we now all know Spring is on the way! 7:30-4pm.
feedyourholeWere on 29th and Park. We'll be open at 1130. Making fresh fries now… Fresh chili on the stove stewing. Fresh Spicy chili + Jalapenos + Chedder Cheese on hand cut fries = best cure for the cold.
RickshawTruck
Wed 2/23: Humpday! Dumpling trucks in Rock Center (50 b/w 6&7), TriBeCa (G'wich & Chambers), and FiDi (Wall St & Hanover). 11a-3p.
CalexicoCart
Buenos dias! The sun is shining & Calexico is grillin! Triple Chili Chicken is the special on Prince & Wooster.
Hoboken/Jersey City