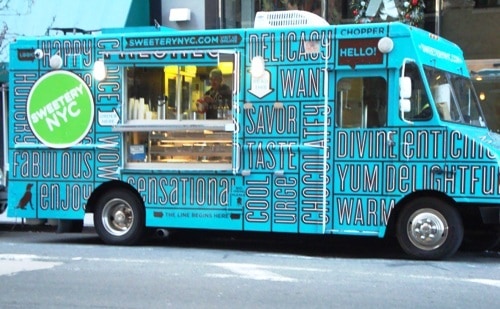 Hope everyone enjoyed their time off this holiday weekend.  We took the ferry over to Governor's Island on Sat, where the Vendy Awards will be held on Sept 24th, and also went to Hudson River Park to watch the Macy's fireworks.
Back to the grind, but you can still enjoy plenty of great New York Street Food from the vendors on the right and the trucks below.
As always, check tho Mobile Munchies twitter feed before heading out, in case any of the trucks had to move at the last minute.
SweeteryNYC Good morning Hudson (&King) St. Sweetery missed you so much yesterday that we are making up for it by visiting you today, see u in a little.
LCBBurgerTruck The LCB Burger Truck is at 101 Barclay St. today. Come on down for a juicy 100% all natural grass fed steakburger or sandwich!
TaimMobile Varick and king today !!
CupcakeStop Good morning CupcakeStoppers.Truck #1 is on Varick between King and Charlton. Truck 2 is at Water and Maiden! Enjoy :)!
biandangnyc Welcome back! 24th btwn park and madison! Ready by 11:30!
schnitznthings Today the truck will try to park on Water and Broad from 11:30-2:00. Store is open @ 1130-9:)