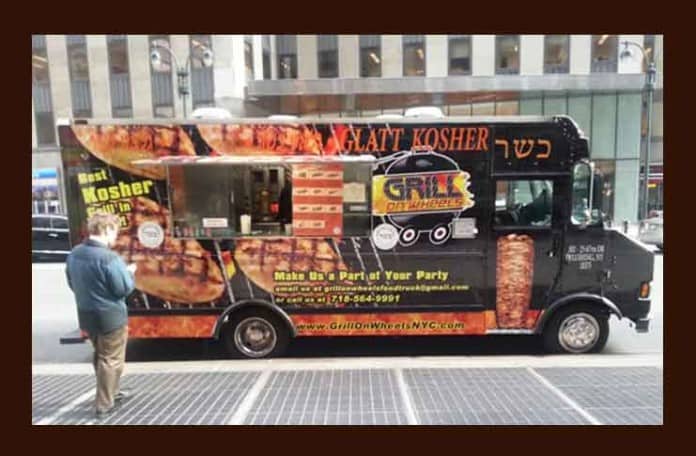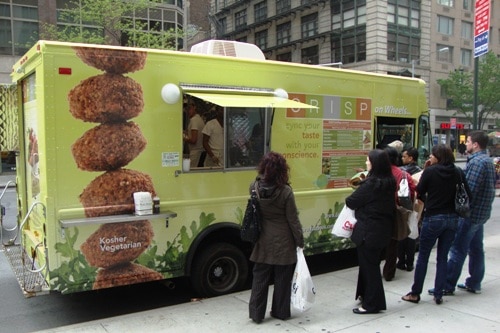 Frites 'N' Meats got a little too ambitious their first day back yesterday and couldn't make all the planned stops.  No worries though, they are taking today off and will be back Wed & Fri to give away more Free Thank You Frites. Click here for their schedule later this week.
The Desi Food Truck recently had a baby.  Similar to Eddie's Pizza, they now have a new cart, and it's parked today on 50th between 6th & 7th Ave.  This block is taboo for food trucks, but not for food carts.
Plenty of other great street vendors around this warm summer day.
As always, check the Mobile Munchies twitter feed before heading out, in case anyone had to move at the last minute.
LICfoodtruckLOT Tue 8/9: Big day at the #LIC Lot! We've got @desifoodtruck, @eddiespizzany, @rickshawtruck, & @CupcakeStop. Come give the trucks some love!
KatchkieTruck 🙂 We think so too RT @swtypewriters: @KatchkieTruck is the real deal…get on it.
UncleGussys Ok folks Today's special is GEMISTA Stuffed vegetables with chopped meat and rice. Specially prepared by mom. Ohh and for dessert, we are serving a delicious Greek Halva, made with love from Aunt Georgia
KorillaBBQ Headed to SOHO! Varick & Vandam! Starting at 11:30!
CupcakeStop Today we are in Long Island City at 43-29 Crescent street in Queens! See everyone soon!
CoolhausNY What up world! Check out T1 @highlinenyc #ROLLARINKSIDE 11am-10pm. Couple savory trucks in the LOT- come make it a full meal. 30th/10th
BistroTruck #Carnivoresnation we are back today to Hudson St & Charlton. Service starts at 11a-3p. As always, Today's specials are very specials: Punk'oooo breaded veal cutlet served w. Basmati rice & salad on the side. #Carnivoresnation
Valduccis Good Morning #NYC, we're at Hanover Square between Wall St. & Pearl St.Featuring Yellow Roasted Pepper topping today! Come on down for lunch