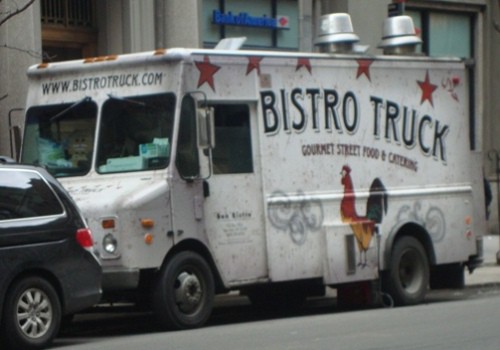 It's not too sunny today, but you can still enjoy some great New York Street Food from the vendors on the right and the trucks below.  We had to run out early for an appointment, so check the Mobile Munchies twitter feed on our homepage for the most up-to-date information on food truck locations.
Bistro Truck is celebrating their 1 year Anniversary today with cake.  Stop by their truck on 5th Ave bet 16-17th St at 12:30 for some free cake and to help them celebrate.  Bistro Truck is the current New York Street Food Featured Vendor.  Read our featured vendor interview with Yassir here.  If Bistro Truck is not nominated as a Vendy Award finalist this year, we will be very surprised.
BistroTruck – 1year anniversary is official… Make sure to stop by for the cake at 12.30pmc(5Ave&16st) and bring your Biz card… http://fb.me/tImacq58
Mexicue – Mexicue back at Bryant Park today – 40th St & 6th Ave. Open at noon!
EddiesPizzaNY – Today (Tues 8/10) EPT is on Water and Broad until 3pm then W4th St and 6th Avenue from 4:30 until 9pm. Come try… http://fb.me/vaZLOmsv
biggayicecream – I'll be making floats today with the following sodas: Izzy Sparkling Lime and Boylan's Black Cherry. PING!
LCBBurgerTruck – The LCB Burger truck is at the corner of Wall/Front Streets today. Come on down for our delicious 100% all natural burger!
schnitzeltruck – Morning midtown! We'll b @ 46th b/w 5th & 6th @ 11:30. Gonna be a good day to grab some schnitz:) come get schnitzified for lunch. C u soon!
CupcakeStop – CupcakeStop truck on 99th and Madison, shoppe inside the Limelight 6th and 20th and bakery in Montclair NJ 1 Greenwood Ave!
joyridetruck – Joyride is at a new spot on Park Ave, between 26th & 27th from 8:15am until 6:00pm. Come try an @stumptowncoffee or a buzzed froyo.
StreetSweets – Street Sweets is back on 46th St & 6th Av from 8a until 5p today.
waffletruck – Happy Midtown Eastuesday! We're on 52 btwn 3rd & Lexington. Do your best "white-boy dance" for 1 free dinges today. Booyyyeeeee!
KELVINSLUSH – More maintenance this morning =( Hoping we will be all fixed up and on the street this afternoon
Hoboken/Jersey City
TheKrave – 8/10: Columbus and Marin 5:30-9:30 http://tumblr.com/xl1fev1qj
laspicetruck – The truck is off the road today. Back on wed. with my little helper