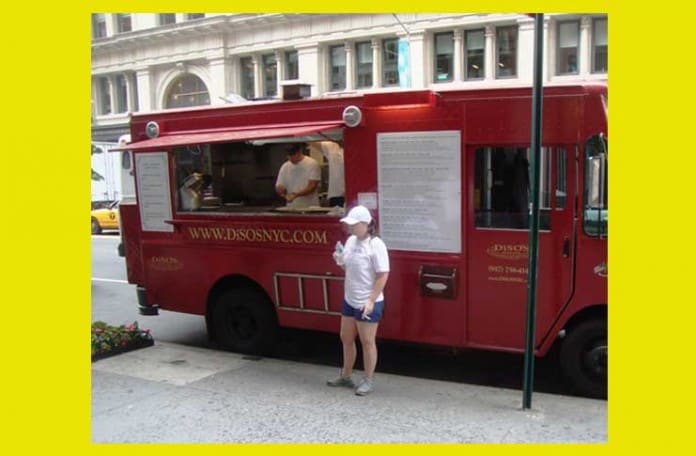 It's supposed to get up to around 80 degrees today.  Perfect outdoors weather.  The best street food carts are listed to the right and the best food trucks are listed below.  Enjoy today.

fritesnmeats – Howdy Tribeca! Were on Chambers & Greenwich Check out http://fritesnmeats.blogspot.com 4 Sched, Free Lunch Winner, Burger of the Week & more/ Taking preorders 917.292.9226.
CupcakeStop – 5th and 23rd w/ Red Velvet, Oreo Crumb, Chocolate Red Wine, Almond A'more, Cinnamon Raisin Baked Oatmeal and Fresh Brewed Oren's Daily Roast
schnitzeltruck – Mornin.. Birds are chirping, sun is shining, trees are blooming, prepped whole lotta schnitz 4 u wall st cats. B there @ 11:30. Water/broad
StreetSweets – Gd morning, Street Sweets is on 50th St just west of 6th Av (btw 6th & 7th Av) all day, come on out & treat yourself to something delicious!
waffletruck – Happy Tuesday! We're on Church St btwn Walker & Lispenard til about 4:30pm. Do an impression of a pigeon for 1 free dinges (sound & walk).
RickshawTruck – Clouds now but 75f at lunch! Midtown east: 52nd+lex and also serving today at 11av bet 46+47 11a-3pm woohoo!
CalexicoCart – Both carts are cookin it up with chili verde pork as today's special.
nyccravings – 24th and park…ready by 11:05!
New Jersey Food Trucks
thekrave – 4/6 Schedule – Lunch #1: 12:00-2:00, Hudson & Essex, Inside Liberty Towers Gourmet Lunch #2: 12:00-2:15,…
3 new tweets.
TheTacoTruck – Jersey City @ York St & Hudson St from 11:30-2:30. Taco Tuesday Lunch Special: 1 order of Tacos, 1 Side (Rice,… http://fb.me/uQDNB7m2
laspicetruck – hudson and york 11:45. Gourmet sliders; brisket, spicy chicken, pulled pork. today les cookies de Jade
As always, check the pink Mobile Munchies twitter feed on our homepage for the most up-to-date information.