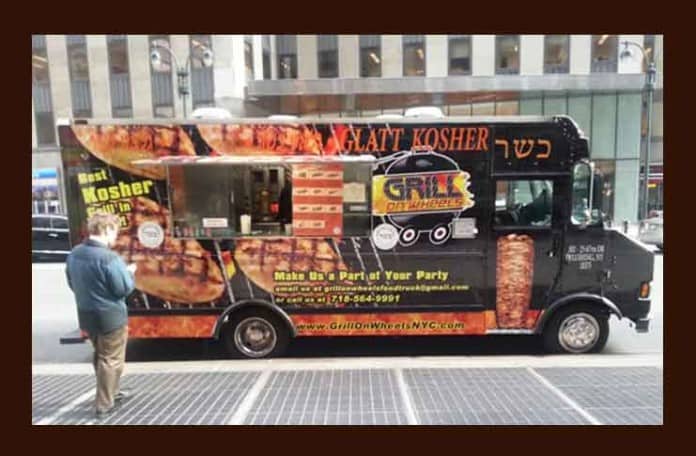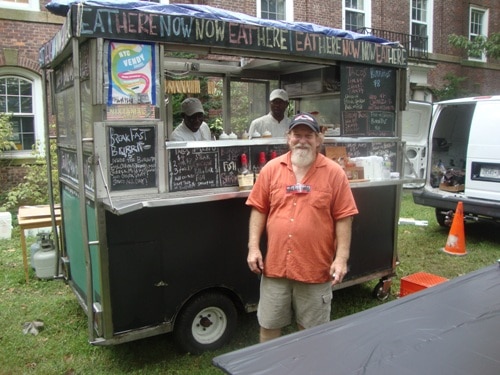 Looks like the weather will hold out through lunch, so get some great New York Street Food from the vendors on the right and the trucks below.
There are some good specials out there today. Eat Here Now Now Eat Here, the 2011 Vendy Award Rookie Finalist, has  pork tacos at special prices today and tomorrow under the High Line at 16th St. Uncle Gussy's has 3 specials today, including spanakopita, marinated skirt steak and baklava. Coolhaus is paraphrasing Groucho Marx with "say the secret word and get $1 off 2 ice cream sandwiches". And you can get a free dinges from Wafels & Dinges by telling them what type of musical instrument you are. Guess I'm a bass.
As always, check the Mobile Munchies twitter feed before heading out. Gorilla Cheese already had to move to a new spot because of a film shoot in their usual Thurs spot.
BistroTruck Find the @BistroTruck on 5Ave-16St 11a-4p
Mexicue 18th and 5th…the spot so nice we're going there twice! #poetry
bobjoTruck We are starting our lunch service on Madison and 48th st at 11:30.
Valduccis Good Morning @NYC & @NYU, the truck is on University Place off Waverly. Eat up everyone!
lobstertruckny Red Hook Lobster This gal is atoning for shilling traif, but the truck is on Front and Goveurneur, the Pound and Madison Sq. Eats are OPEN for business!
waffletruck Thursday means Le Grand Wafel Truck is on 46 btwn 5 & 6 until 4:49. Central Park Wafel Carts: Vedette as always is on 60 & 5 Ave. right by the zoo, Kotmadam temporarily at 59 & 6 Ave. Both until sundown. Super Wafel Carting: Goesting is on Greenwich & Murray downtown, Bierbeek is at Columbus Circle by the Time Warner Center. All day for both. What musical instrument represents you for 1 free dinges?
joyridetruck We are back at 51st Street btwn Park & Madison, ALL DAY LONG! We would love to see some smiling faces!