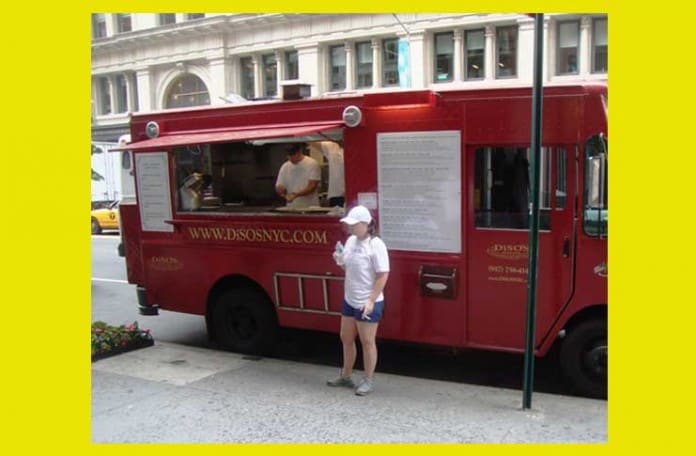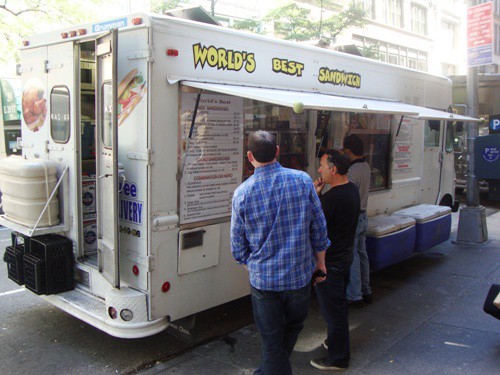 t's a perfect day for enjoying some great New York Street Food from the vendors on the right and the trucks below.  Not too hot, not too cold. (Jeez, I sound like Goldilocks.)
As always, make sure to check the pink Mobile Munchies twitter feed on our homepage before heading out, in case anyone had to move at the last minute.
qbacubankitchen – Hola nyc! Landed on 44th near 5th ave! Ready in 10minutes–come get ur Q-ban on!. Special: Mojito Chicken & Sofrito Pimenton!
nyccravings – Ready by 11am by 53rd btwn Park & Lexington!
fritesnmeats – Howdy Folks! Another beautiful day made even better by Burger Love! Were on Park Ave b/w 26th & 27th St. Great day for The Italian Job, or the Angus Skirt Steak Sandwich, & of course dont forget our killer Chili Cheese Fries or Fries w/Caponata! Taking preorders 917.292.9226

CupcakeStop – CupcakeStop Trucks on 99th and Madison and 5th and 23rd today! Red Velvet,Funfetti,Oreo Crumb,Vanilla Choc, Almond A'more, Hummingbird, Elvis,French Toast w/ Bacon,Choc Vanilla,Choc Marshmallow Snowball!
EddiesPizzaNY – Happy thurs! We r on 52nd and park for lunch until 3! Eggplant Ricotta special: Bar $10, Large $17and then we will be @CrushWineCo from 645 to 9pm with an awesome wild mushroom pie! We do not have Sweet Potato Gnocchi Today so our sides will be either a cookie or side salad with our homemade itlaian vinaigrette!
Mexicue – Church St between Walker & Lispenard. Open at 11 am!
CalexicoCart – Today's special on Wooster & Prince is Chile Pork Molido: fresh ground pork, bacon, pablano and raisin topped with sour cream, enjoy!
schnitzeltruck – Oyyy 52nd b/w 6th & 7th? You guys ready for schnitz slinging to happen for lunch? Vealification on the menu! iPhone app or call 347-772-7341
waffletruck – Midtowners of the world! 46th btw 5 & 6th today till 4:32pm. Free dinges for ordering like an Italian tourist.
StreetSweets – Happy Thur! SS is on Hudson St btw King & W.Houston until 3p. Then off to an RR Donnelly /UBS Sweet Stop, then 6p Sty-Town Free movie series. If you are a baker and could use a little extra dough (about $10,000 extra), you will want to go to our website… http://fb.me/HY0PAI1L
ETRAVAGANZA – Hello muchachos and viva mexico!!! Let's celebrate our independence with tacos con carne asada and guacamole' onion and fresh cilantro @52/park
joyridetruck – It's Thursday, so Joyride will be on 52nd and Lexington from 7:15am-6:00pm. Come get a delicious morning cup of @stumptowncoffee. Satisfaction guaranteed!
RickshawTruck – The Dumpling Truck is parked at Hudson bet King + Houston and will be serving from now until 3pm. Fidi, sorry your truck is in shop for day
quickstopkosher – Thursday sep 16 we will be located at West 33 and 9th Ave B&H Photo Video Pro Audio!! We will be there from 8:00 until 2:30 PM !! And from there we will go to TOURO COLLEGE at 27 West 23rd Street!!! we will serving yall from 3:00 pm until 6 pm!!! Send us all your suggestions!!Were looking to serve different neighborhoods from 3pm til 6pm! The location with the most votes is gonna win!
3 new tweets.
miss_softee – hey kids…. fever is back so I'm back in bed. hope this flu doesn't last much longer!!! 🙁
Hoboken/Jersey City
TheKrave – Schedule – Hudson and Harborside pl. 12:00-2:00 Columbus and Marin. 5:30-9:30 http://tumblr.com/xl1ipxzm9
VeganLunchTruck – We are parked on sinatra and 3rd in Hoboken. We have brazil nut crated tofu, peanut butter chocolate cheesecake… http://fb.me/HGUDtcWH