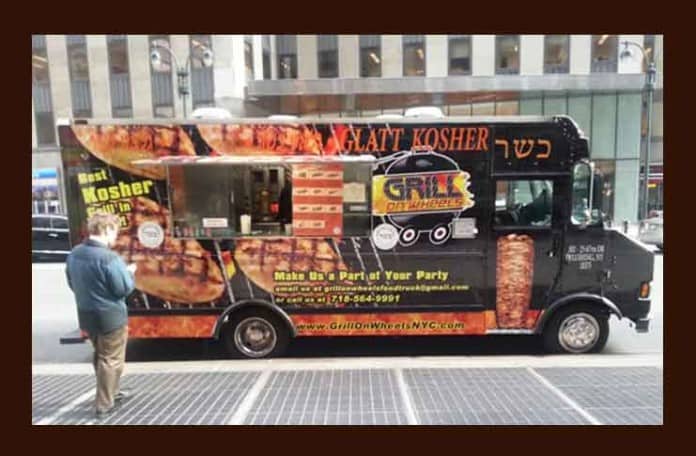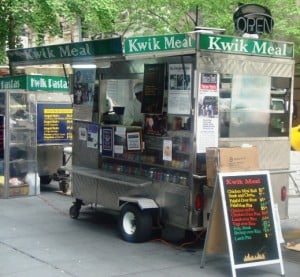 Running late today, so let's get to it.  Enjoy great New York Street Food from the vendors on the right and the trucks below.
As always, check the Mobile Munchies twitter feed before heading out in case anyone had to move. Cupcake Crew already got chased because of a complaint from a brick-and-mortar conglomerate.
KimchiTruck Good morning! Hudson & Charlton 11:30-3pm
feedyourhole
Were between 26th and 27th on Park Ave today! We got some killer specials. The DIRTY GUAC will sell out fast I can say that for sure. Try the Mr.White burger with the special Breaking Bad sauce…!
Mexicue Pancho is on water and broad…lefty is on 18th and 5th. It's a BBQ battle royal!
CalexicoNYC Gorgeous day at the brooklyn bridge, we'll be rockin and rollin at 1130
PapaPerrone 55th Btwn 5th&mad. Chik parm riceballs,3cheese RB,sicilian&veggie RB,sausage Heros & the chris slice: slice w/a riceball on top. 11:30-2:30
EddiesPizzaNY Happy Thursday: Carts on Greenwich/Duane St and 66th/Broadway. Try a 3 cheese chicken parm w/provolone, mozz, parmesan. Truck is at a private event.
LukesLobsterNY 55th and Park today for lunch. Union Square for dinner. See you there.
BistroTruck Good day #UnionSquare we are at da NEST 5ave-16st
bobjoTruck We are opening at Vanderbilt Ave bet E46th and E47th St.
bigdsgrub No breakfast today…sowee! Lunch will be ready by 11:15am in Midtown West!
waffletruck Thursday means Mama Wafel Truck is on 46 St btwn 5 & 6 Ave until 4:48. Wafel Carting: De Goesting is on Greenwich & Murray, De Beirbeek is on Columbus Circle by Time Warner Center. Both until 8:59. Allez Allez! De Central Park has Wafels! De Vedette is on 60th & 5th, De Kotmadam is on Great Lawn by Delacorte Theater. Both until sundown! Give us your best whistle for 1 free dinges!
CoolhausNY Good morning! Catch T2 @ NYU 12-5 (W.4th/University), Cart @ CPW 11-7 (80thst/CentralParkWest) YUMMM. Secret PW: "Tornado Alley" (an exhibit @ Natural Science Museum). Spec sammie: Snickerdoodle cookie w/ Punkkkin Pie Ice Cream! COME HITHER
fritesnmeats Lunch today @ the lic lot on crescent ST, preorder 9172929226 #mobilesecret
New Jersey
VeganLunchTruck The Cinnamon Snail is in Newark at the PSE&G plaza farmers market from 11:00-3:00, and then at the Grove St. Jersey City… fb.me/18f7fk11F
CoolhausNY Good morning! Catch T1 @ Hoboken 12-7 (Sinatra Dr/1st)
TwoPitasInAPod Newark pse&g farmers market today folks!
TheTacoTruck Heading to Harborside for lunch, not Exchange Place today. See you soon;)
TheKrave Wednesday – 12:00-2:00 Hudson and Harborside Pl. 5:30-9:00 Columbus and Marin tumblr.com/xl153kxvu0