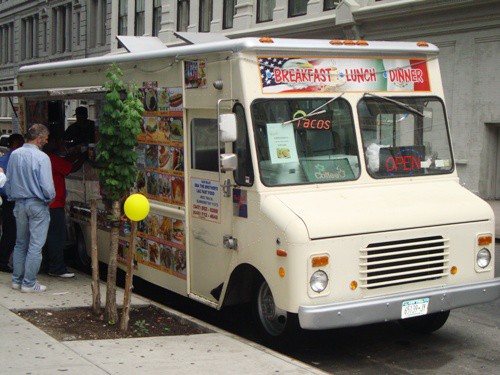 Too busy to chat this morning. Below are the truck locations for today, but check the Mobile Munchies twitter feed before heading out, in case anyone had to move at the last minute.
souvlakitruck
Truck is serving lunch today from 12:15-3pm, corner of 21st & 6th. Thereafter, its all blue skies and island vibes down at the
#LES
shop.
Chefsamirtruck is on 38th St @ Broadway today! Soupe du jour: Vegetable Soup $3; Crème Brûlée! Place your order over the phone and pick it up! Tel. 347 935 9807
fritesnmeats Frites'n'Meats Lunch today @ 116th & Amsterdam burger of the week THE ITALIAN JOB. We also got our delicious cinnamon rice pudding for dessert treats. preorder 9172929226
waffletruck Thabulous Thursday! Le Grand Truck is on 46 btwn 5 & 6 til 4:28pm. Ah oui! Le Carts!! Le Goesting is on 40 btwn 7 & 8.  Both til 4:63pm. Allez!!! Vehemently demand we serve you pancakes for 1 free dinges today.