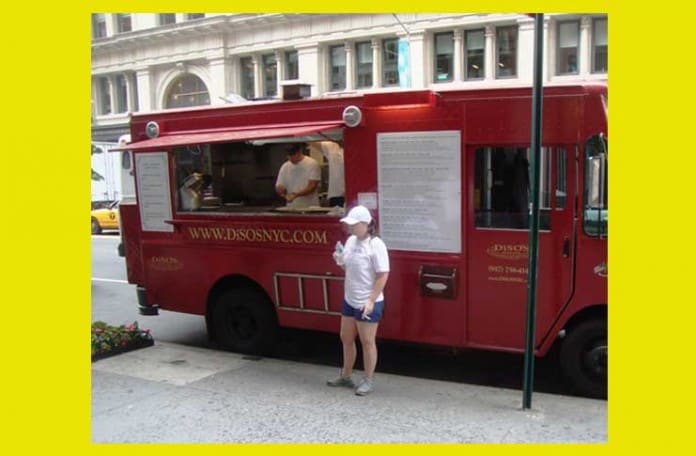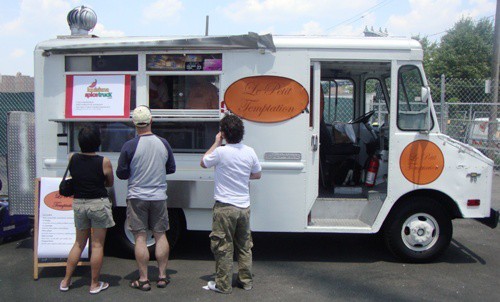 Wow, can it get any nicer out!  A perfect day for enjoying some great New York Street Food from the vendors on the right and the trucks below.  Go ahead – try a new street food vendor today that you haven't tried before.  There are plenty to choose from.
We had to get this out a little early today, so before you head out, make sure to check the pink Mobile Munchies twitter feed for the latest info, in case anyone had to move at the last minute.
fritesnmeats – Hey Hey Midtown West! Were on 48th St. & 6th Ave. Midtown East came out strong yesterday. We sold out in 90 mins! A record! Can u beat it? Taking preorders until 12. 917.292.9226
EddiesPizzaNY – Its tuesday…..that means water and broad lunch day! Bar pie w vodka sauce and chicken cutlet is a must! Call ahead….9174397522
RickshawTruck – Duck, duck, duck, YOU! We've got yummy Peking Duck dumplings today! We're at 48th & 6th and 52nd & Lex. So get your feast on! 11am to 3pm!!
joyridetruck – Life is too short not to indulge! Come partake in the flavor that is joy in a cup. Joyride is at 26th&Park from 7:30am until 5:30pm.
schnitzeltruck – Mornin midtown.The sun is out so u no what that means! Schnitz is on the way so everythings ok;) 46th b/w 5th & 6th. Preorder @ 347-772-7341

StreetSweets – We're back! 46st & 6Av, we like u guys so much we decided 2 c u twice, in 1 week that is. Have u tried our famous Macarella Yet, its so WOW!
2 new tweets.
qbacubankitchen – Headed to Wall street! Special today Ropa Vieja! Also mojito chicken/qba garlic citrus marinade, sauteed to juicy perfection.
waffletruck – Happy Midtown Eastuesday! We're on 52 btwn 3 & Lex til 4:30pm. Do an impression of a peacock for 1 free dinges today.
CupcakeStop – CupcakeStop trucks parked on 99th and Madison and 7th and 36th. Try the new Mudslide Cookie!!
quickstopkosher – Today will be by B&H photo until 3pm 3:10 javitz center entrance from 11ave and 37 str until 6pm see you
Hoboken/Jersey City
laspicetruck – hudson & york 11:45-2:30 two new sandwiches today plus the regular menu… C u soon
TheKrave – Columbus and Marin, 5:30-9:30 http://tumblr.com/xl1fzr4yg
3 new tweets.