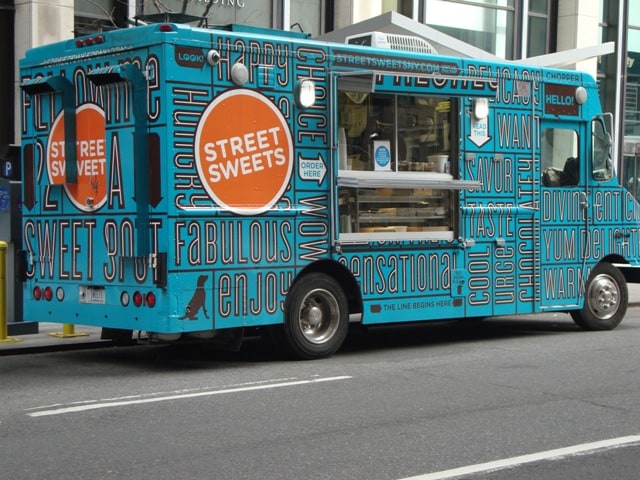 Doesn't seem like it will be as hot today as the past few days, so enjoy some great street food today.  The trucks and carts are ready for your business.  Just make sure to check the pink Mobile Munchies twitter feed before heading out, as this had to be an early edition of Mobile Munchies and not everyone has checked in yet.
StreetSweets – Good morning Street Sweets is on Hudson St btw King & W. Houston all day until 4p today, we look forward to seeing our Tribeca friends today
fritesnmeats – Finally a break in the heat! Whew! Were on Park Ave b/w 26th & 27th. Swing by 4 the masterpiece that is The Italian Job! Call us 9172929226
waffletruck – Happy Midtown Thursday! We're on 46 btwn 5 & 6 til 4:34pm. Tell us a pirate joke for 1 free dinges today. Argh!
schnitzeltruck – Morning 48th & 6th. You ready for schnitz time? We'll be there at 11:30. We'll have an extra guy so the line should move quicker. C u soon:)
LCBBurgerTruck – The La Cense Beef Burger Truck is parked again at 75 Wall Street today. See you later!
EddiesPizzaNY – Today (Thurs 7/8) we are on 52nd and Park from 11am until 2:30pm and then 14th between 3rd and 4th from 4pm until… http://fb.me/uNghGBU4. Make sure you call ahead your order to avoid the heat! 9174397522
CupcakeStop – Truck on 5th and 22nd, truck on Madison and 99th and shoppe inside the Limelight (6th and 20th, 1st fl) w/ a full summer selection. Today's Summer Menu includes Mango Oatmeal,Cinnamon Cafe, Coconut Strawberry, Almond Raspberry, Pineapple Crumb, Peach Oatmeal & more!!
1 new tweet.
biggayicecream – I'll have peppermint syrup/cacao nibs today. Those nibs are expensive lil' buggers- no private jet to Belize for me this weekend!