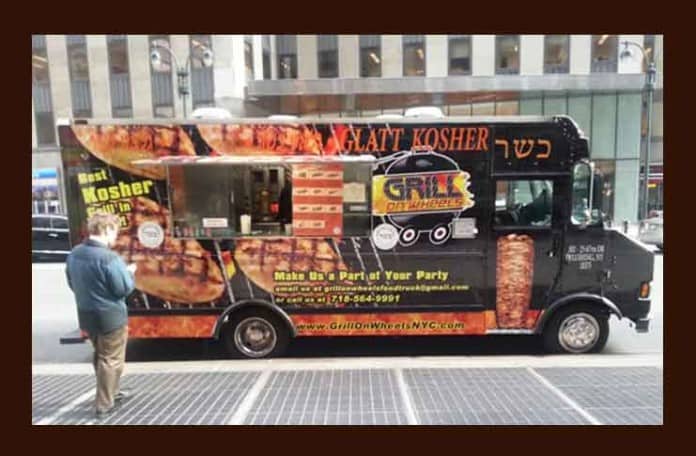 It's National Burger Day (seriously).  Frites 'N' Meats and Go Burger both have specials for those in a celebratory mood.   See specials and locations below.
For those of you in Hoboken or Jersey City, there is a nice write-up on The Taco Truck, Krave Korean BBQ and a few other food trucks on NJ.com here.  We went to The Taco Truck recently for dinner and really enjoyed it.  Look for a full write-up next week.
As always, check the pink Mobile Munchies twitter feed before you head out in case any of the trucks has moved.  Street Sweets already moved once this morning.
fritesnmeats – Howdy MIDTOWN! Its Natl Burger Day! The greatest Holiday ever! Everyone gets 1 free Burger topping! Were on 48th & 6th today. Might be a good day to preorder & just pick up. Taking preorders until 1130. 917.292.9226See u soon!
GOBurger – Happy National Burger Day! To celebrate, a special lunch deal from 12-4pm: classic burger, fries & shake for $10! See u at South St Seaport!
1 new tweet.
nyccravings – Hudson and King. Ready by 11:40am.
waffletruck – Happy Friday! We're on 52 btwn 6 & 7 til 4:30 in the pm. Tell us a fact about Chuck Norris for 1 free dinges.
schnitzeltruck – Mornin all, we'll be @ 52nd & lex @ 11:30… Finish off the week with a nice huge schnitz before bbqs begin.. Ohhh yaaaa!! C u soon:)
BenJerrysTruck – Good morning, NYC. Wanna know where we're headed? Well, here's a hint…it's filled with culture (no dairy pun intended) #OMGfreeBenJerrys
StreetSweets – Midtown is very quiet. Street Sweets is heading to the the. UWS Broadway & 75th St from 11:30 until 5p
1 new tweet.
RickshawTruck – Fri: Dumpling truck delivers Saag dumplings w yogurt dip to Chelsea! 15th & 9th ave, 11-3 ;  Midtown gets Peking Duck Dumplings! You're jealous. 45th & 6th, 11-3
CupcakeStop – CCS truck on Broadway and Spring and inside the Limelight on 6th and 20th (1st fl). New truck will be back on the Seaport tomorrow!!
CalexicoCart – Both carts are out today. The special is Pollo Verde: shredded chicken in a roasted tomatillo salsa. Enjoy and have a nice holiday weekend!
JiannettosPizza – It's the kick off to the weekend! We are in our spots today, great specials going on….Out on Monday. Be Back Tuesday…9177530819 Enjoy!
HOBOKEN/JERSEY CITY
TheKrave – 5/28 Happy Friday – 12:00-2:00, Hudson between York & Grand. 12:00-2:00, Hudson & Essex, Inside Liberty… http://tumblr.com/xl1ali27z
VeganLunchTruck – We are parked on Sinatra and 1st. Our special today is awesome and so are today's Ginger pear fritters! Call ahead… http://bit.ly/bvF76O
TheTacoTruck – Come grab lunch before you head out for the long weekend – we're at Sinatra & 1st in Hoboken. Happy Friday! http://fb.me/ygSh7Uq8
2 new tweets.