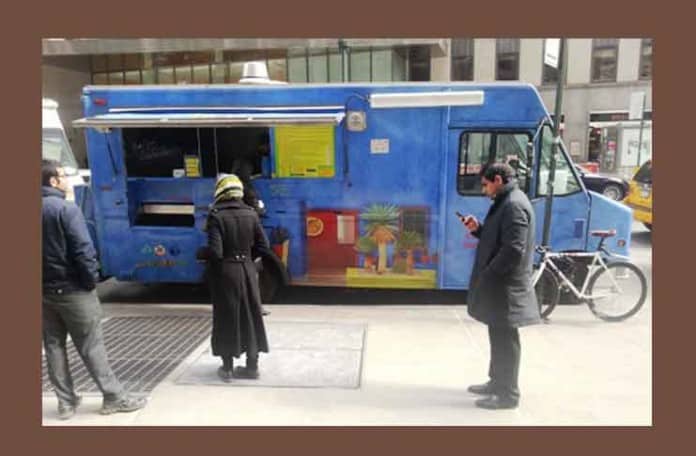 What a great day in NYC!  Looks like it going to be a Big Gay Ice Cream day later on.  It's also a perfect day to enjoy the best street food from the carts listed to the right and the trucks below.
CupcakeStop – 52nd & Lexington w/ 12 flavors, TWO new ones: Peanut Butter Cup and Toffee Crunch (Choc Cake, Brown sugar frosting, Heath Bar bits on top)
biggayicecream – Yup! I'll be out on the street later today. I'll let you know once I'm installed at Union Square. Visit @UnSqGreenmarket while you're by.
waffletruck – If it's Monday, it's wafels on Brdway & 114th til 5pm. Your suggestion for what volcano-stranded travelers should visit, for 1 free dinges.
schnitzeltruck – Morning TriBeCa friends.. We missed you.. We'll be on Greenwich and chambers today @ 11:30.. Ready for schnitzification?? We are;)
StreetSweets – Great Mon. morning! Street Sweets will be on 5th Av btw 22st & 23st (west side of the Av.) from 8a until 3:30 p then off to 9th av & 59th st
VLAIC – G'day! Trucks at 6th & 22nd till 10AM then 5th & 23rd, 10am-6pm and 5th & 15th now till 6pm……Enjoy
nyccravings – Ready by 11…48th btw 6th and 7th.
CalexicoCart – Sorry guys Calexico on Broome St is closed today. However, the cart on Wooster & Prince is alive and well Spicy ground beef is the especial
RickshawTruck – Monday: DUMBO! See you at Front + Washington. Midtown! See you at 46th bet 5av + 6av! Dumplings in the sun! Woohoo! 11a-3p Check it out!
fritesnmeats – Hey FiDi!!! Burger Love's here to kick off week right! The Oinker rides again! Killer Brownies in da house! Preorders till 1130 917.292.9226
2 new tweets.
schnitzeltruck – Hey guys so we got a spot on Greenwich and chambers.. Hopefully no troubles… Come and get ur schnitz on TriBeCa!!
New Jersey Food Trucks
thekrave – 4/19 – 12:00-2:15, Hudson between York & Grand. 12:00-2:00, Hudson & Essex, Inside Liberty Towers Gourmet….
TheTacoTruck – Lunch in Hoboken today @ Sinatra Dr. & 2nd St. from 11:30-2:30. Call ahead 201.577.4214.