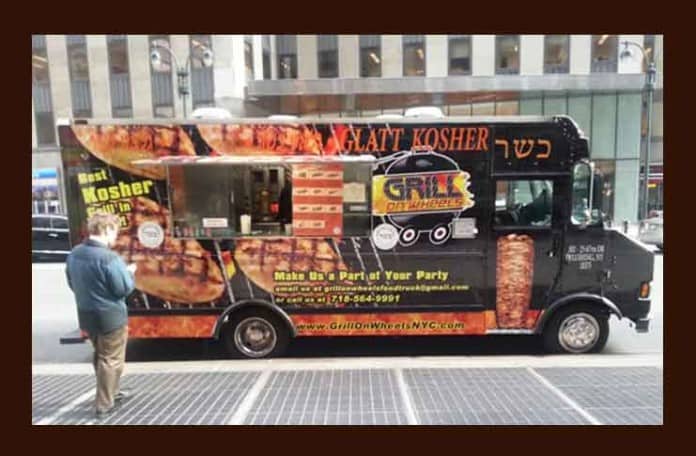 It's kind of a dark morning, but no rain.  It should get better as the day progresses.  The cool weather is perfect to enjoy some great street food from the vendors on the right and the trucks below.  Remember, today is the first day for some free Ben & Jerry's ice cream.  They are included on our Mobile Munchies twitter feed so you can find them easily, or follow them yourself at http://twitter.com/BenJerrysTruck.
Check out our new map to see which of the best street carts are near you, or try one of the trucks below, maybe one that you haven't tried before.  As always, check the pink Mobile Munchies twitter feed to make sure the truck hasn't had to move since this was posted.
waffletruck – Well, happy Monday, Tribeca! We're on Hudson btw W.Houston & King as of 12pm. Free dinges for the best thing about the past weekend?
schnitzeltruck – Sorry for late tweet everyone.. Pounding schnitz till last minute.. EXTREME SCHNITZIFICATION!:) water & broad cu @ 11:30:). Call the phone to preorder 347-772-7341.
fritesnmeats – Howdy All! New Sched! New Location! On Murray St & North End Ave! Grab The Ploughman – The Burger of the WeekNew Burger of the Week! BPC, WFC, Goldman, BoNY & Stuyvesant HS we're headin' ur way!!
nyccravings – It's a bit chilly here on 48th and 6th…bundle up! Ready by 11:15!
CupcakeStop – 52nd&Lexington: Red Velvet,Funfetti,Nutella,Oreo,Vanilla Choc,Choc PB Swirl,Triple Choc,S'mores,Mocha,French Toast,Van Strawberry & Marble!!
StreetSweets – Ogilvy please tell your associates, here we come! 8:30 until 3:30 then off to 9th Av & 59th St 4-7:30p. We have gelato ice cream sandwiches
RickshawTruck – Mon: DUMBO!! Front and washington. Also, midtown 45th btw 5th and 6th!! Anyone catch amazing sunset last night?
VLAIC – Today is a day for cappuccinos if you ask me. No better place to get one than Panda on 23rd at 5th Av and Kangaroo on 5th Av at 15th 🙂
1 new tweet.
CalexicoCart – Both carts are out today. Spicy ground beef is today's special. Enjoy
Hoboken/Jersey City
TheKrave – 5/24 – 12:00-2:00, Hudson & Essex, Inside Liberty Towers Gourmet 12:00-2:00, Hudson & Harborside Pl…. http://tumblr.com/xl1ae23iu
laspicetruck – LST isn't working today.. finalizing dessert menu with 9 C tavern, @Jersey city, @Hoboken, make it your sweet destination