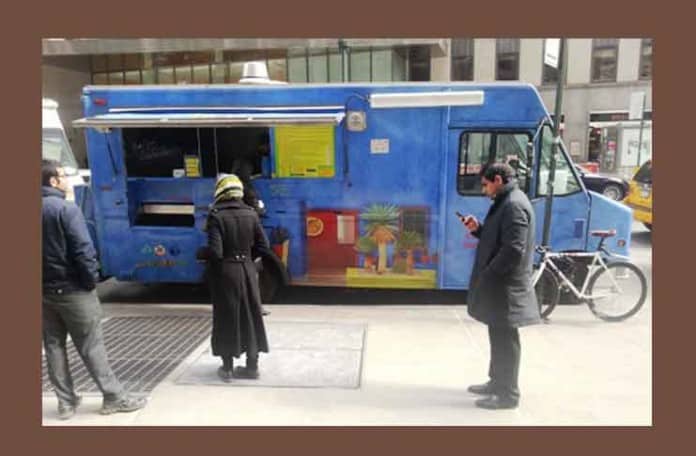 A beautiful day here in NYC.  Enjoy some great street food from the vendors on the right and the trucks below.
As always, check the pink Mobile Munchies twitter feed on our homepage before heading out.  Sometimes a truck will have to move on a moment's notice.
StreetSweets – Gd Mon morning! St Sw will b on Park Av So from 8a-3:30p then to 9Av & 59st 4p-7p, please stop by we have lots of great sweets(& savories2)
BistroTruck – Happy new week everybody…Steak tacos & mixed grill (lamb, chicken, merguez & steak over basmati rice & salad ); Soup of day: roasted eggplant; We will be ready for service @ 11.30am sharp
waffletruck – This feels like reuniting with an ex-lover. Hudson St. btw King & W.Houston. How about 1 celebrity break-up/make-up for 1 free dinges.
schnitzeltruck – Water & Broad what's going on.. Step away from the computer screen for a few and grab some schnitz @ 11:30. C u soon
1 new tweet.
nyccravings – Beautiful day with a nice breeze on 48th and 6th! =]
fritesnmeats – Hey Tribeca were on Greenwich & Duane. Were also gonna be on TeeVee!! Join us & get Free Burger Love!!! Get the Italian Job – greatest Burger of all time!! Get the killer Cherry Walnut Brioche Bread Pudding!!
RickshawTruck – For mon: midtown, 46th between 5th and 6th. Also, DUMBO front st and washington! 11-3
2 new tweets.
CalexicoCart – Both carts are on the street. Today's special is Ground Pork with pablano peppers, shaved almonds & raisins topped with sour cream. Enjoy!
CupcakeStop – CCS truck is closed today to prep for tomorrow's event. Visit us inside the Limelight on 6th and 20th 1st floor- French Toast cupcake…
PapaPerrone – We will not be on 55th today.We will be on 55th tuesday with italian sausage hot or sweet
Hoboken/Jersey City
TheKrave – 5/17: We're back!! – 12:00-2:15, Hudson between York & Grand. 12:00-2:00, Hudson & Essex, Inside Liberty.
VeganLunchTruck – Come out for breakfast today. We are on 6th between Washington and Hudson in Hoboken. The Cinnamon Snail is getting filmed for a television… http://bit.ly/acpLJP
TheTacoTruck – The Truck will not be serving today. We will be back tomorrow in Jersey City for lunch.