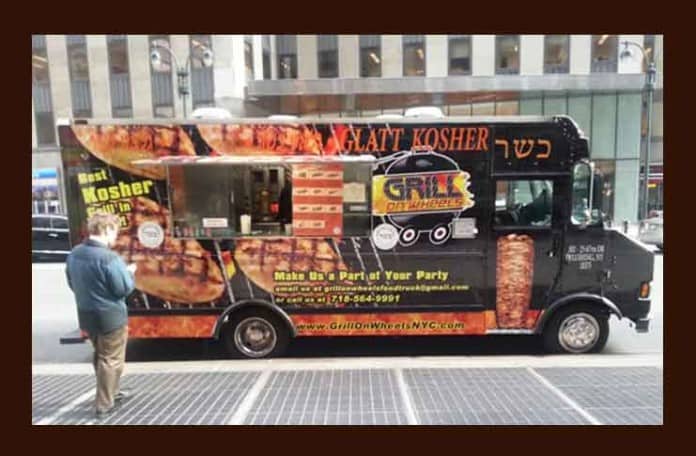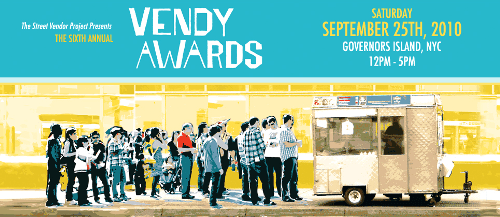 It's T-minus 25 hours to the Vendy Awards, the holiest day of the year for New York Street Food.  We will be heading to Governor's Island tomorrow to pray to the street food gods – and to eat our faces off 🙂  Don't expect all 15 Vendy finalists to be out today.  There's a lot of prep work that need to be done to feed over 1,000 people tomorrow.
We did hear from Chef Samir of the Comme Ci Comme Ça truck, who had elbow surgery not long after opening.  He expects the truck to be back on the street soon, so check back here for updates.  We think the Comme Ci Comme Ça truck would have been a serious contender for a Rookie of the Year Vendy nomination if they weren't forced onto the injured reserve list.  Check them out when they're back on the street to see if you agree.
As always check the pink Mobile Munchies twitter feed on our homepage before heading out.   President Obama and the UN are creating all sorts of chaos on the east side, and we already had a change of plans due to a film shoot.  Now we have to go down to Park & 27th to meet @tastytouring at the Wafels & Dinges truck instead of their usual Fri spot on 52nd & 7th, which we could have walked to.  Oh well, life in NYC in never predictable.
waffletruck – Happy a-film-shoot-made-us-move Friday! We're on Park Ave btwn 26 & 27 til 4:32. Tell us the worst film of all time for 1 free dinges. 52nd – save your wappetite (wafel-appetite) for next week. We'll be back. On sera de retour, sans doute.
schnitzeltruck – Ok guys spot secured on 52nd & Lex ! UN don't schnitzblock us! So come get ur schnitz on before tomorrows @vendyawards.. 11:30-2:00. C ya:)
VLAIC – 5 locations today! 5th Avenue & 15th st; 23rd st & 5th ave; Bedford & North 7th in Williamsburg; Bleecker & Charles; Prince & Greene.
fritesnmeats – Howdy FiDi! Were on Water & Broad today. Last day for the amazing Italian Job! Call in preorders & avoid the line. 917.292.9226
CupcakeStop – Friday: CupcakeStop trucks on on 7th and 29th in NYC and on 7th Ave and 6th St in Park Slope Brooklyn Menu to follow…new flavor today!! Red Vel,Funfetti,Van Choc, Oreo Crumb,Choc PB Swirl,Apple Pie a la Mode,Mint Chip,Sweet Potato Pie & introducing the NEW ALMOND JOY CUPCAKE!
EddiesPizzaNY – We r at our normal spot on park btwn 26th and 27th. Last day of buffalo chicken pizza!
joyridetruck – Joyride is at Columbia today! Come to 115th and Broadway and check us out!
ETRAVAGANZA – Happy friday!!our mexican breakfast wraps r come n get yours. Fresh eggs chorizo green pepper on7 grain!! Delicious.
StreetSweets – Hudson St @ King, St Sw will b hanging with u today due 2 the craziness that is UN traffic, stop by 4 a great cup of joe & something delish. Want free St Sw sweets? Sat. check out our special Sur La Table/ St Sweets truck on 3Av btw 75th/ 76th St starting @ 10a 4 SLT grand opening
PapaPerrone – We are on 55th Btwn Park&Mad. Eggplant Friday
GOBurger – Today at seaport. Pier 17. We are back. Come try the best burger, kobe dogs and veggie burger in town. Yummy!!!!!
CalexicoCart – Nevermind the Bollocks: We're Calexico. Both carts are open, soho and Brooklyn bridge. Special in soho is homemade chorizo!
miss_softee – off to get oreo ready for the day and then we'll be in the city with the fall harvest special!! 🙂
souvlakitruck – Broadway Panhandler, picking up accoutrements for #vendyawards. Suuuchhh a greattt store. Fun stuff!
Chefsamirtruck – is getting ready for the grand re-opening!!! Stay tuned!
Hoboken/Jersey City
TheKrave – Schedule – Hudson and Harborside. 12:00-2:00 Columbus and Marin. 5:30-9:00 http://tumblr.com/xl1jhtgcm
qbacubankitchen – Sorry, no lunch service today. Join us at Watchung Plaza Sidewalk Sale tomorrow-Sat.