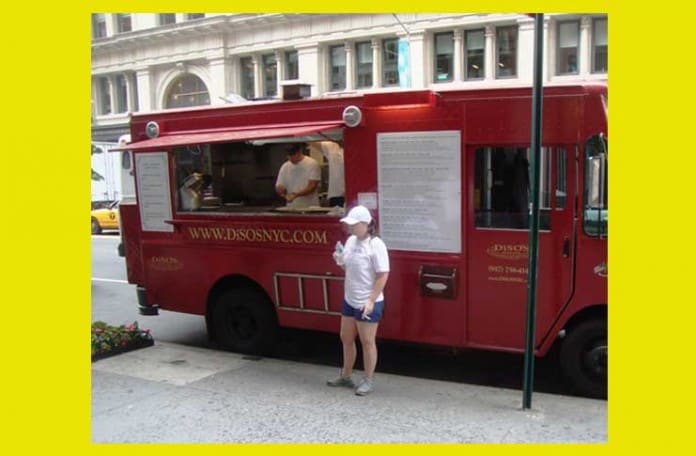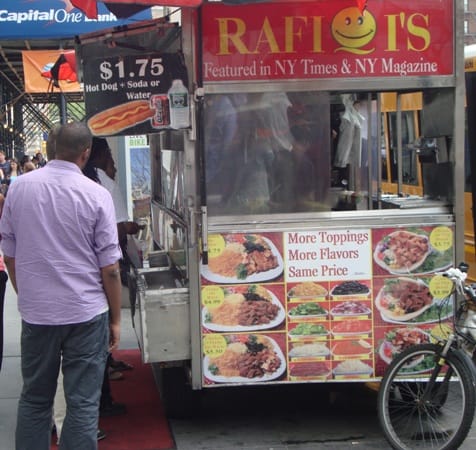 Another beautiful day to enjoy some great New York Street Food.
It's the last day of the season for Miss Softee and she baked a crumbcake for today's special.  Looks like Steak Truck is trying a new spot at 24th & Park. They have great beef and chicken cheese steaks in that new green truck.
As always, check the pink Mobile Munchies twitter feed on our homepage before heading out, in case anyone had to move at the last minute.
UncleGussys
Goodmorning kalimerA 😉 I'm on the grill cooking up on park and 51 st
waffletruck
Its Friday! We are on 52nd st. Btwn 6th-7th. Free Dinges for asking directions. We will help you find your way. 8a-4:24p. See you soon yea? Mini-wafel-truck "Goesting" at NY Times building on 40th, "Vedette" at CP Zoo (5th/60th). Outskirts of Midtown, we're looking out for you!
CupcakeStop
CupcakeStop Trucks on 7th and 29th in NYC and 7th ave and 6th street in Park Slope Brooklyn!
StreetSweets
we wil b at Hudson St btw King & WHouston till 11a then 2 The Vimeo Fest 18th St btw 10Av & Westside Hwy 11:30-2:30p, then u tell us?
miss_softee
last day for the season on the truck… handbaked crumbcake special today!! picked up a few more specials (fruity pebbles, cappuccino, potato chips) and headed to pick up the Oreo speedwagon next! last day!!! 🙂 if you haven't come out yet… this is your last call!!!
schnitzeltruck
No parking today on 52nd & lex due to film shooting. Doing round dos @ 52nd & 6th from 11:30-2:00. Hope to see you guys soon:)
biggayicecream
If all is as planned: serving in Union Square by early afternoon, and then a favorite treat makes its seasonal debut by late afternoon.
fritesnmeats
Today lunch will be @ water&broad 11-3 preorder 9172929226!
steaktruck hi..we are at 24st(park ave.)look for the green truck to get the best cheese stk in nyc.see there.
desserttruck
Just got back from Union Square farmers market! 40 lbs of juicy Red Delicious apples from Samascott Orchards… http://fb.me/y6qnWVXf
LCBBurgerTruck The La Cense Beef Burger Truck is parked at 111 Wall Street today. You've gonna love our new delicious new grass fed beef»
KELVINSLUSH
Just a heads up. May NOT be in our regular spot today. Might go visit @
JoeQuesada
and our Marvel friends … (if we can park)
RickshawTruck
Midtown West: so sorry we wont be at 45th _ 6av today we have a private gig we need to go to. See you next week!
juicepirate
Who wants some Pirate's Hot Apple Cider with cinnamon and vanilla and hand whipped cream??? Come to Grand Army Plaza tomorrow….
Hoboken/Jersey City
qbacubankitchen Headed to Jersey City for lunch! Specials freshly baked beef empanadas & mojito chicken tenders