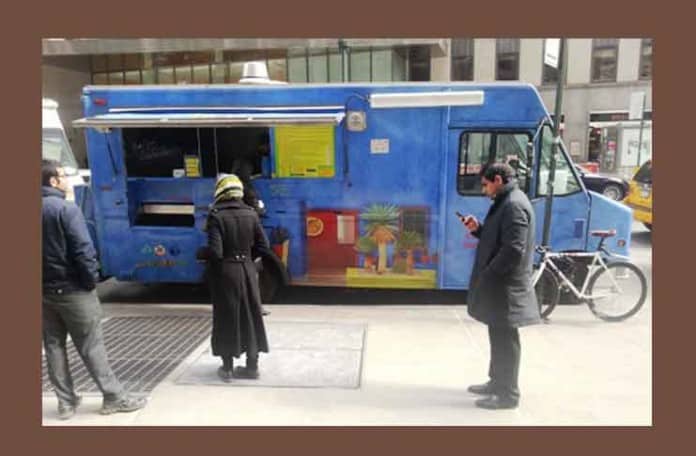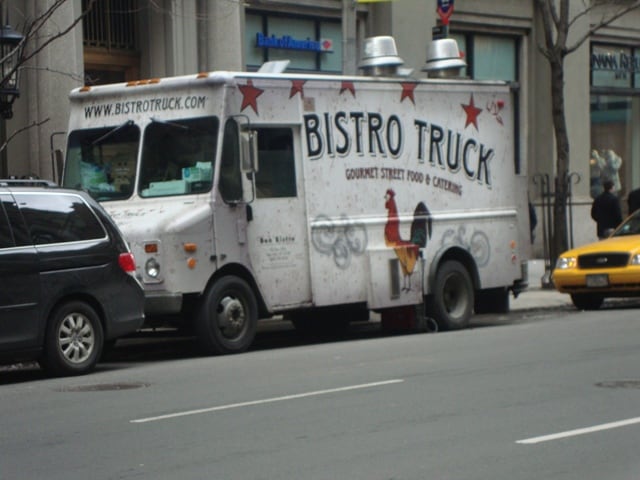 Summer Friday…a great day to enjoy some fine street food from the vendors on the right and the trucks below.
It's gonna be a hot one today. Luckily we're pulling ice cream duty for Food Network Canada at the Big Gay Ice Cream Truck on Broadway & 17th from 1-3pm.  Come on down, say hello, and cool off with a Salty Pimp.
BistroTruck – TGIF guys:) -Enjoy Bistro Truck extravaganza….3 specials, crazy combo soup (mango/chipotle) and 2 desserts. Special of the day: Couscous Royal (lamb, chicken, merguez & veggies over couscous & salad). We also will be serving: Poached fillet of tillapia in extra virgin olive oil w/basmati rice & salad and fish tacos all day long. Soup of day: chilled mango chipotle soup -Dessert: creme brûlée and Rasberry mousse.
schnitzeltruck – Yo 52nd & lex what's schnitzelating?? We are! Come Schnitz out with us today. TGIF schnitz day! B there @ 11:30. C u soon:)
waffletruck – Fantabulous Friday! We're on 52 btwn 6 & 7 til 4:30pm. Make up a word and its definition for 1 free dinges today.
EddiesPizzaNY – Happy friday (7/16) we are on park ave btwn 26th and 27th. last day for a chicken parm pizza. Don't forget to call ahead your order! 9174397522
StreetSweets – Street Sweets is On Murray St btw West & Greenwich, and will be traveing to midtown later this afternoon, more info to follow.
LCBBurgerTruck – The LCB Burger Truck is parked @ 111 Wall Street today. This week's New York York magazine named it one of the best food trucks in the city!
CupcakeStop – Truck on the Seaport,truck on Broadway and Spring, shoppe inside the Limelight 6th and 20th and new bakery on 1 Greenwood Ave in Monclair NJ.
2 new tweets.
CalexicoCart – Special on Prince & Wooster today is slow roasted pork cooked in an apple & peanut salsa. Enjoy! It's a beautiful day in the Brooklyn Bridge Park, come check us out @ Pier 1.
VLAIC – Coffee & Ice Cream @ 5th & 15th, 5th & 23rd till 5:30pm. Ice cream only at Bedford & N. 7th11am-1:30am, Greene & Prince 11:30am-7pm…
waffletruck – hey UWS, your Riverside cart is back, Friday through Sunday from 10am till 8pm. Walk down the stairs at 68th St. toward the river, et voila!
ElDiabloTacos – Rival Schools & Weezer today at the waterfront, Come & visit us at the taco tent!
fritesnmeats – Howdy all. Unfortunately generator still f'd up. Hopefully back up and running by monday. Have a good weekend everyone
qbacubankitchen – No servicio today. Have a great weekend!
Hoboken/Jersey City
TheKrave – 7/16 – 12:00-2:00, Hudson & Harborside Pl. 5:30-9:30, Columbus and Marin Blvd http://tumblr.com/xl1djwcux
2 new tweets.
laspicetruck – hudson & york 11:45- 2:00 jamaican patty melt today, dessert is the famous chocolate and praline cake
TheTacoTruck – Lunch in Hoboken today @ 1st & Sinatra from 12:00-2:30. Call ahead 201.577.4214