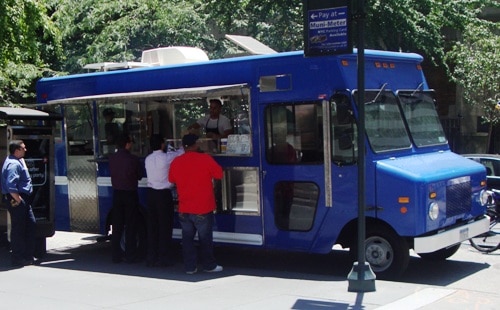 It's a beautiful day today – perfect for enjoying great New York Street Food from the vendors on the right and the trucks below.
As always, check our Mobile Munchies twitter feed before heading out, in case anyone had to move at the last minute.
UncleGussys
It's that time again folks Time to step away from the emails, the desk, your boss get away for lunch, have a drink and leave early
UrbanOasisTruck Soho for lunch today!
KorillaBBQ Korilla 2.0 checkin in at Flatiron on 25th & Park! Lunch will start at 11:15
PapaPerrone
55th Btwn Park&Mad. Eggplant parm today. DJ3K has been a big hit. We will have more today also the Porto Bella riceball. Italian ices today
bigdsgrub
7/15 G'morning Midtown East! Headed your way for lunch! we will open for lunch at 11:45am! 53rd and Lex!
CupcakeStop
Our first truck is on 5th and 23rd. Our second truck is on park ave between 26th and 27th. Flavors are Funfetti, Curry Mango, Red Velvet, French Toast with Bacon, Oreo and Vanilla Choc.
SweeteryNYC
Hey Fri glad to see ya, Hudson/king st you'r not looking so bad yourself, here until 11:15a, then off to Park/52nd st.
waffletruck
Funtastic Friday! Order using your best war cries to get free dinges! Le truck is at 49th and 3rd ave! Carts! Goesting @ 52nd btwn 6th & 7th till 5 Bierbeek @ Columbus Circle till 10 Vedette @ 60th & 5th ave till 8 Kotmadam @ great lawn till 8
cupcakecrewnyc
Good Morning Bryant Park..TGIF-Truck setting up in its usual FRIDAY spot.Wake up with a cup of our DALLIS BROS. Coffee. Hot/Iced-
Valduccis
any followers bring this tweet to the truck at York Ave. between 67th and 68th and get a free slice between 11:30-5:30!
LCBBurgerTruck Happy Friday! The LCB Burger Truck is located at 111 Wall St today. Come on down for a delicous 100% grass fed burger or sandwich!
TwoPitasInAPod
Hoboken. Podsters en route. Skinny Tuna in ze Pod. Will post when docked.