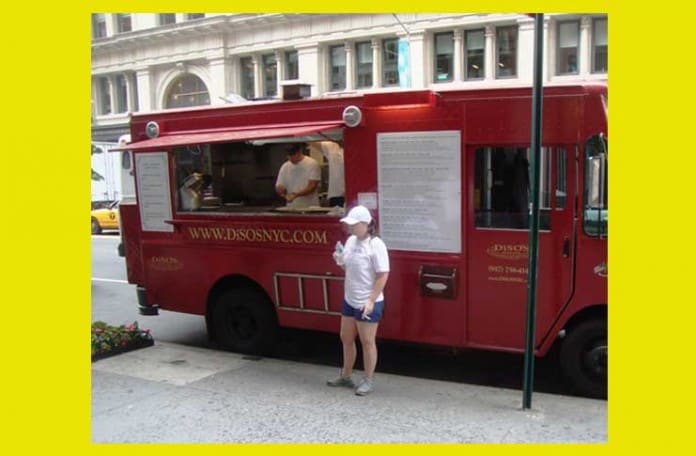 Beautiful winter day here in NYC.  Still a little messy, but not too bad.  Most of the trucks are out today.  Rickshaw Truck has added a 2nd truck, Wafels & Dinges is trying a new location out (near my office, yay!), and Cupcake Stop now has gluten-free cupcakes.
This is where the food trucks will be today:
CupcakeStop – Broadway & Spring w/Red Velvet, Sugarbomb -free Benefit Cosmetics Sugarbomb w/ purchase,Choco Marble,Tiramisu,Coconut Cream and Gluten Free!
StreetSweets – Street Sweets will be on 50th St west of 6thAv (btw 6 & &Av) all today with Valentines Day cookie & cupcakes.
waffletruck – Happy new spot Friday! We're on 8th Ave btwn 56 & 57. Come and mime your favorite winter olympic sport for 1 free dinges.
schnitzeltruck – Morning all.. We will try to get the truck out of the snowy depot.. Will be in dumbo @ 11:30. Then tonight & vendrtv party from 7-10pm
VLAIC – The Panda will be in it's usual habitat: 6th avenue btwn 22 and 23 until 10:15am, then 23rd at 5th ave. Equally scrumptious VLAIC treats!
VLAIC – Good morning! The Kangaroo is serving your favorite lattes, fresh pastries (Van Leeuwen's own!), and drip coffee on 5th avenue @ 15th street
TheTreatsTruck – We'll be at 45th and 6th from 11:30 – 3:30 then on 5th Av and 22nd st from 4 – 5:30. Valentines treats!!
RickshawTruck – Sunny friday! Midtown east 45th & 6th and we are also @ 15th & 9th meatpacking/chelsea mkt new spot! 11-3 both spots
CalexicoCart – Both carts are out and bringing the heat. Come and get it!
1 new tweet.
nyccravings – 48th btw 6th and 7th: ready by 12pm! http://bit.ly/cWpn4r
New Jersey Food Trucks
thekrave – Location 2: Hudson and Harborside Pl, 11:45-2:15 http://tumblr.com/xl16dj3a7
thekrave – Location 1: Hudson and Essex, Inside Liberty Towers Gourmet, 11:45-2:30 http://tumblr.com/xl16dj32x
TheTacoTruck – Lunch in Hoboken today on Sinatra between 1st & 2nd from 11:30-2:30. Call ahead 201.577.4214 http://fb.me/5ooqjGG
As always, check the Twitterrific Food Trucks feed on our homepage for the latest information.  We look forward to seeing everyone at the VendrTV birthday party tonight.