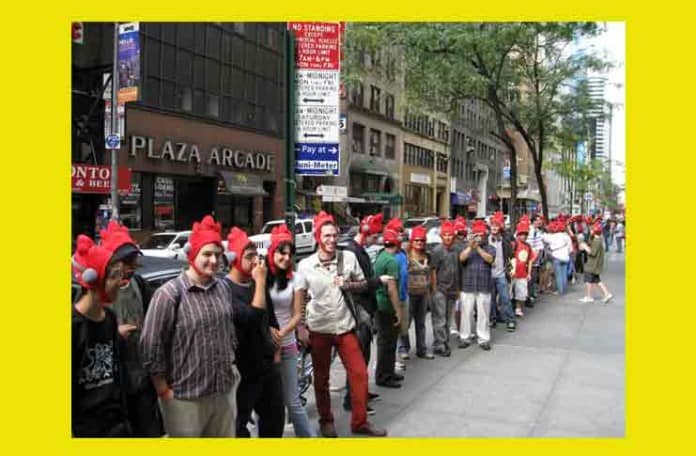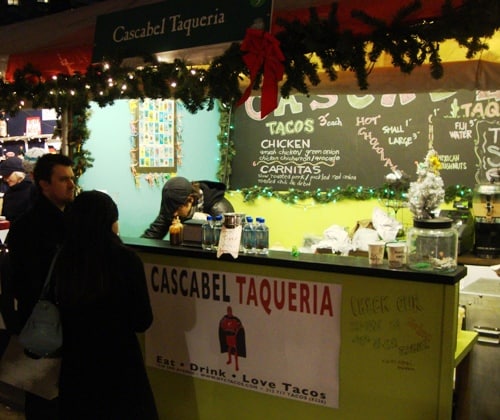 It's the final week for the Columbus Circle Holiday Market, and the last food place I want to try is Cascabel Taqueria.  Cascabel is a restaurant on the Upper East Side (80th & 2nd Ave), but the outdoor food stall at the Columbus Circle Holiday Market makes them fair game for a New York Street Food review.
I never know whether to get 2 or 3 tacos for lunch, as sizes vary greatly from place to place.  Watching these tacos being made, they seemed a little small, so I ordered 3.  Today's Lunch are 2 carnitas tacos and a chicken taco ($3 each) from Cascabel Taqueria.
While the food was being prepared, the guy told me they are also opening a 2nd restaurant in the Flatiron District soon, which is a lot closer to where I live than the Upper East Side.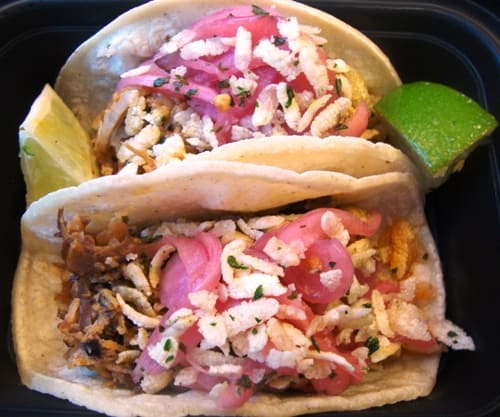 Opening up my lunch, the smell of roasted pork was really nice.  I squeezed on some lime and took a bite.
The taste of roasted pork (carnitas) was even better than the smell.  Some pieces were a little crispy from roasting, and the pickled onions on top added a nice bite.  They also sprinkled what looked like puffed rice on top, but it turned out to be toasted chili de arbol, which added a crunchy texture and a little more flavor to the taco.
The meat and pickled onions made the taco somewhat juicy, but even though they only used 1 tortilla, it didn't fall apart.  It might have been because the tortilla was on the thicker side, but I think it was simply because I ate them so fast.  In retrospect, I would have like some hot sauce on this taco, but it was still pretty tasty.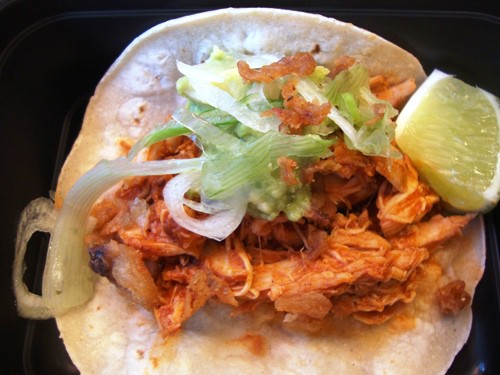 The shredded chicken in the chicken taco seems like it was stewed in a tomato-based sauce, and it was a little spicy.  The chicken was also extremely tender.  The chicken taco was topped with guacamole, scallions and chicken chicharron, which were like tiny fried pieces of chicken. The scallions gave this taco a little bite too, in addition to the spiciness of the chicken.
This was also a nice tasting taco, although the tortilla on this one started to fall apart towards the end.  I guess when there's only 1 tortilla, you have to eat them right away before the juices start eroding the tortilla.
These tacos were a little on the small side, but I would definitely recommend them based on the ingredients and taste.  Just make sure you order enough of them.
This is the last lunch I'm having at the Columbus Circle Holiday Market this year (the last day its open is Friday), but it was great having 4 new places for lunch two blocks from my office – and I bought a few gifts for loved ones at the same time!