The heart of your restaurant is its kitchen. It's where you turn ordinary ingredients into memorable dishes to make your business stand out. But other than a sufficient working space, your kitchen should have all the essential equipment for it to be productive. From refrigerators to grills, every paraphernalia is expected to provide quality usage.
A quick yet efficient ingredient preparation is vital before the cooking itself. It might seem like an exaggerated claim, but the kitchen workflow will only be smooth if you start strong. For example, every restaurant owner invests in good quality cutlery. Why? Because poorly prepared ingredients can affect the overall quality of the dish!
A piece of kitchen equipment that most restaurants overlook is the can opener. According to DiligentChef, you should invest in the best electric can opener for your business. In a commercial kitchen, time plays a significant role in the overall workflow. The last thing you want is a speed bump due to dull can openers and dented cans of tomato chunks or tall cans of soup. And if your business is booming, we're sure that you are opening more than 20 cans of varying sizes per day.
There are a lot of commercial can openers in the market. And since they cost more than your plier-like manuals at home, it's important that you get the best value for your money. To help you, here are our suggestions for every restaurant owner.
What Commercial Can Opener Should You Get?
Earlier, we have already presented you some electric can openers. The reason for this is because they don't require any effort to use. Also, most brands are actually designed to handle a large volume of cans per day. You can still opt for a manual can opener, but they take more time and manual intervention to use. In the kitchen, everyone multi-tasks, so it's only appropriate to get a semi, or perhaps, a fully independent can opener.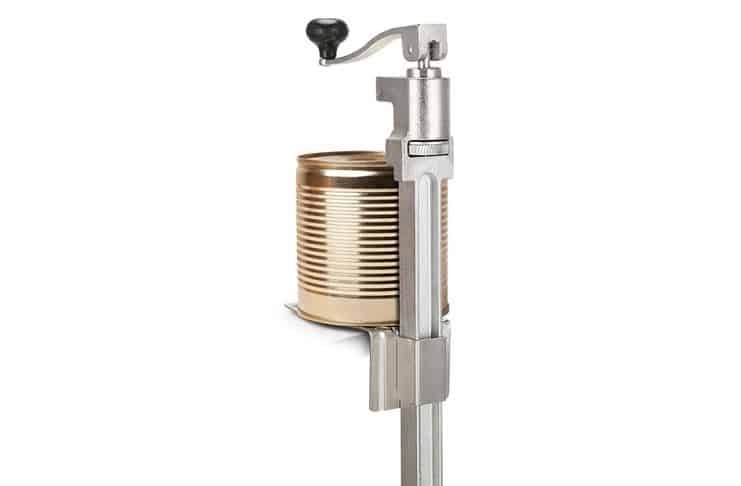 Electric Can Openers
Depending on the model, it's possible to find an electric opener that handles up to 50 cans per day. In fact, the Edlund 266 has a capacity of 75 cans per day, which is 4 to 7 cans per minute. This opener is also 12 inches tall so you wouldn't have a problem with tall cans.
But more than the speed and volume, operating the device itself doesn't require an engineering degree. You'll just lock the can into place and pull its top lever to start cutting. And if you're worried about its potential lifespan, it's stainless steel built will last you for years. Not to mention, Edlund also sells a replacement kit for its blade and gear. This saves you some money instead of disposing of the whole model completely.
Depending on how much you're going to use a can opener, you can search for a reasonably priced electric can opener. Black & Decker's Spacemaker series have different under-the-cabinet models. This type of can opener is perfect for those who want to save counter space in their kitchen. The C0100B model even has a bag cutter, knife sharpener, and bottle opener in its body. These inclusions are fantastic since you will conveniently have all these functions in one place.
Another impressive electric model is the Hamilton Beach 76606ZA.  You can operate it with just one hand as it cuts the can below the rim of the lid. Side-cutting can openers eliminate the jagged edge that you'll get with their top-cutting counterparts. We believe that even though kitchen work should be quick and efficient, safety should also be a priority.
Crown Punch Can Openers
If you're impressed with the capacity of electric can openers, then you'll love to have a crown punch opener for your restaurant. You can opt for a manual type, but we prefer an air-powered model. If you're looking for numbers, the Edlund 610 can open 250 to 400 cans per day, which is 8 to 12 cans per minute. Why are these openers capable of such volume? The secret is that it doesn't take long to open one can. Crown punch openers have a circular set of blades. This means when it inserts the blades in the lid, it can remove it entirely in one motion.
Besides Edlund, Garde and Vollrath also make commercial can openers. Their models can open a large number of cans, and they're also built to last you long. However, what they have are mostly manual models if that's something that you put into consideration.
What to Consider When Buying a Can Opener for a Restaurant
Efficiency
As you can see throughout this article, what we're pin-pointing is how many cans and how fast a unit can open them. During the busy hours in the kitchen, different kinds of meals need to be served fast. You're also doing different preparation and cooking steps simultaneously, so it's only right to expect an efficient performance from the can opener.
Ease of Use
A unit's efficiency will depend on how easy is it to use. Even if it can open 50 cans in less than 5 minutes, if it is tricky to operate then you'd end up slowing down. You can look for something that requires minimal or even zero manual intervention. Perhaps a model that operates with a single pull of a lever or a push of a button.
Durability
You will be subjecting the can opener under a strenuous task, so it's important that it's overall built is made to last. A good quality stainless steel can give you a reasonable lifespan. At the same time, you will also be avoiding rusting, which is a big no-no in food preparations.
NSF-Certified
NSF stands for National Sanitation Foundation. If your opener is certified by them, it verifies that what you're getting has passed the public health and sanitation standards. Think about it; you are in the food business. Therefore, it only fits to use equipment that is safe to come in contact with food. Your customers and even food inspectors will appreciate it!