Want to learn how to use a kitchen knife properly? You've reached the right place. Having had the opportunity to live and work in Tokyo was a great experience. Besides learning about the culture, the people, and the place I worked, I did learn about cooking. That, itself, was wonderful.
If you were able to get into Tokyo you would be shopping in Kappabashi which translates to Kitchen Town. You can find anything from placemats to restaurant supplies in the tightly packed streets that make up this small district. Since there are many knife specialists in Kappabashi, it makes sense to only visit stores with knives on display. 
The first thing I did was to go to the cooking district in Tokyo to have the correct utensils. It was famous for all you should have when you want to make a meal. That included the opportunity to have the right knives to use no matter what you made. There was a wide variety to choose from, but they were all made with the same quality and ability that anyone could handle when at home or as a chef in a restaurant. 
When given the opportunity to try the new SYOSAKU CHEF KNIFE I knew this was perfect. It is a premium molybdenum stainless knife that is 14.5 inches  (370mm) long. The stainless steel blade is 9.5 inches (240mm). The width at the widest is 2 inches (50mm). The weight is about 0.5 pounds (230g).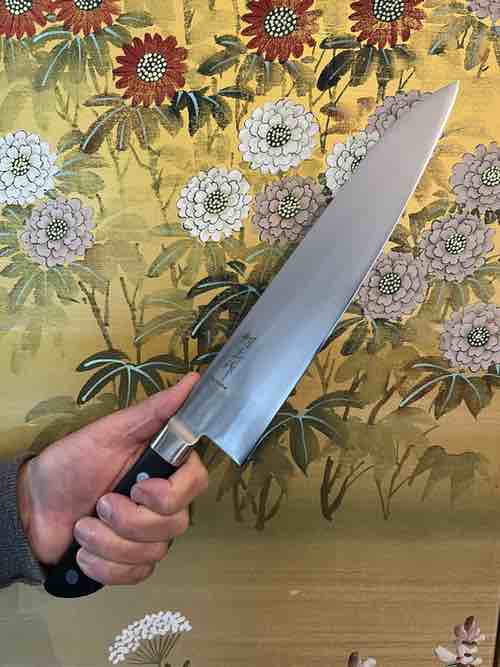 But before I delve into this wonderful piece of kitchen art, let's understand some basics of how to use a kitchen knife.
5 Tips on How To Use a Kitchen Knife
Before you use a new knife you should learn about the best way to use it. The Five Tips is the way to start as it will guide you along as you learn and understand the best way to use it.
FIRST, CHOOSE THE CORRECT KNIFE.
Depending on how you cook, and your interest in style will help you determine the type of knife you might need at that moment. You should have a few different knives at the ready and be aware of their applications. Always consider the length and weight of the blade you might require at that moment for each cutting task. As a true cook or chef, the knife will have a heavy, eight to 10-inch blade that is ideal for chopping large, firm vegetables or carving meat. An 8-inch serrated knife is good for cutting baked items such as bread and pies, or even tomatoes. A knife between 50-inches to 3.5-inches can be used for precise jobs like slicing fruits or herbs.
SECOND: KNOW THE BASIC CUTS.
Each knife is meant for a different cut. It depends on what you are cooking and what you will need at that moment. By mastering a few simple motions, you'll cut items into pieces faster and more effectively. Keep in mind that if a recipe calls for chopping you will do it a certain way. If you need to dice, then you might use a different knife and try to create cubes. It really depends on the knife and what you want to do.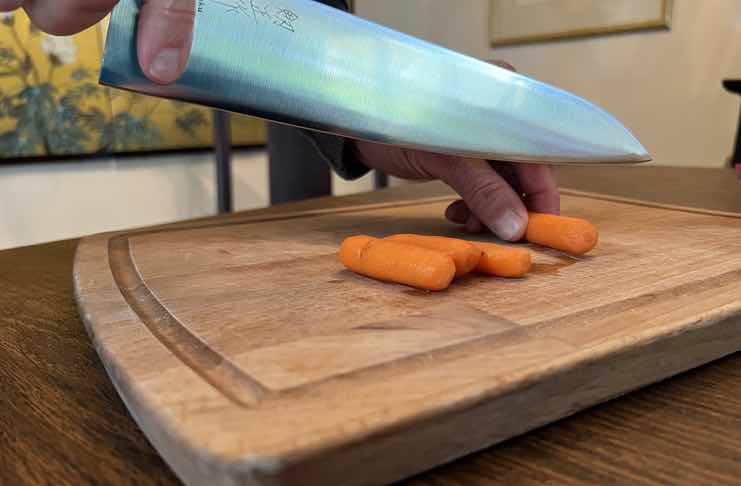 In this case, the slice serves well for breaking up vegetables or meat. Set the item on your wooden cutting board and hold it with your free hand. Put the blade's tip on the board, and angle it upward. Pull the knife back repeatedly, keeping the tip on the cutting board, as you push the food toward the blade.
With the Syosaku Chef Knife you will be able to handle daily kitchen tasks. You will be able to cut, dice, slice, mince, and chop. You can cut meats, or fish, vegetables, and fruits. The more you use the knife the more you can use it to make a meal you want.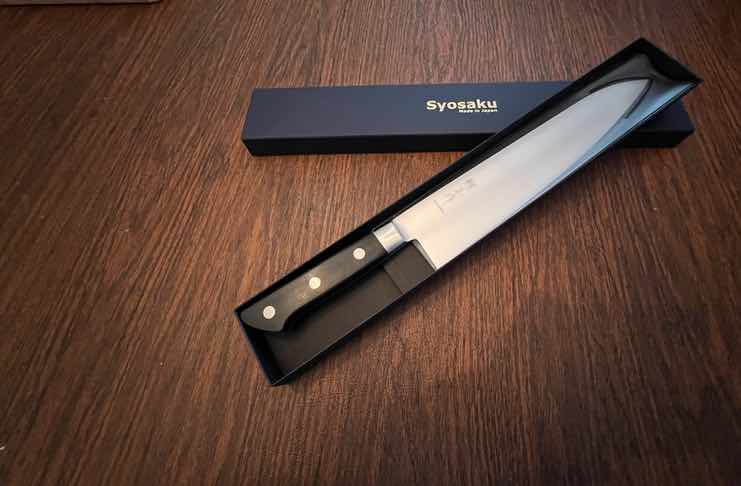 You can even use it when you decide to use it as a sushi knife. It is double-edged, allowing you to use it from either hand. And while the knife is ideal for preparing for the meal, please do not use it on bones. Those need a special knife to cut.
THIRD: GRIP PROPERLY. AND PRACTICE.
The first thing when you have a new knife is to practice. That will help you learn about the knife and how best to use it. Learn about the weight and the feel. Understand how to hold it, and how it can work in your hand. It will also let you go a long way to avoiding injury and make it easier to chop or mince items quickly. 
Naturally, it is important for your own comfort and ease while cutting. Start with a simple meal and you can work yourself up. However, for greater control and stability, your grip should be high on the knife's handle with your thumb and index finger gripping the blade's heel. This will come with practice and the more you use the knife. 
FOURTH: FOCUS. FOCUS. FOCUS.
Using a new knife can teach you a new way to cut. The more you learn, then the more you can use it. One knife can go a long way when you have the right knife in your hand and can concentrate on what is at hand with each slice.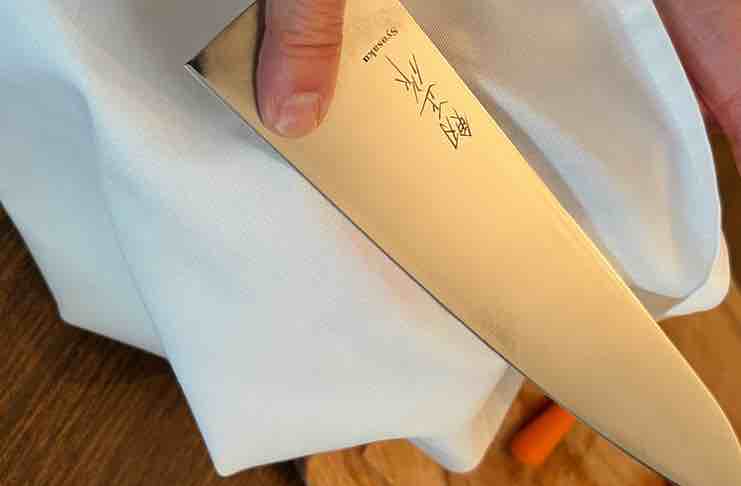 Cutting ingredients may seem like a repetitive activity that requires minimal attention. However, it is extremely important to concentrate on your chopping and thoughtfully plan it out. Otherwise, you risk hurting yourself.
Instead, consider how best to approach each cutting task, taking into account how small you need the pieces to be and how to minimize the labor involved. For example, when cutting an onion, cut off the top, then slice the bulb in half and peel off the outer layers. Start by chopping vertically, then horizontally until you end up with sufficiently small cuts. Time will make it perfect.
FIFTH: CARING FOR YOUR KNIFE WILL KEEP IT LONGER.
The Syosaku is a great knife to have. It has long-lasting sharpness. It is easy to use and super rust-resistant. It is hand-finished for exceptional sharpness. Properly caring for the knife will make your work easier and safer.
To keep your knife and blade in good shape there are a few steps to take. First, wash them by hand, not in the dishwasher, to prevent corrosion. Use the dull side of the knife to nudge ingredients on the cutting board. Lastly, be sure to sharpen your knives regularly. Dull knives slow your cooking and lead to accidents. You either need the proper utensil to sharpen your knife on a regular basis. Or check your local grocery or butcher to learn about sharpening services.
The Syosaku gives exceptional sharpness, durability, and ease of sharpening at the same time.
THE SYOSAKU KNIFE: A HISTORY OF FINENESS
The Syosaku kitchen knives are very special. They follow a traditional way of making a perfect kitchen utensil that can use now and for years to come. They are handcrafted in Sakai, a port city in Japan that has a centuries-long history of creating knives originating from forging samurai swords. They are made by founder Toshi Sekiya and artisans who understand the tradition but make it work for today. Each process of creating the knives is divided among specialists who are skilled in forging the metal blade, creating the handles, combining the knives, and perfecting them. It can take up to six months for the artisans to fully craft a finished product depending on the knife and the function.
You should look for double-edged blades that mirror the traditional look you would find at home. However, you don't need to stick to the exact same look! The Japanese Syosaku knife has a very unique shape plus it's very effective for your everyday kitchen work.
When you have the Syosaku knife you are prepared to handle a knife you might not have handled before. It is here for you to learn and use. To try something new and different with a few simple steps that will be handy to use.
A Japanese Syosaku Chef Knife, the knife will last for many lifetimes provided you care for it properly.
Want to read more of our latest posts? Check out these 4 yummy and healthy foods to make with Bananas.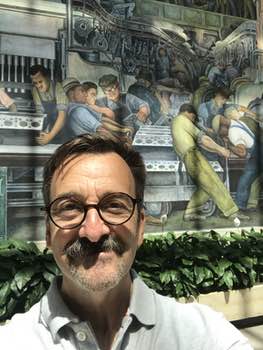 "The Jaded Traveler". Ron Rossi was born and raised in New York. A globalist at heart, Ron is a marketing director by trade, and has lived and worked around the world including Asia, Europe, Africa, and South America. Food is one of the best ways to learn about a country, a people and a culture. So, Ron is always looking for the best in mid-range to budget and street food. He is always on the hunt for a good meal anyone can afford. It is the food of the average citizen that excites him. And with having visited close to 100 countries on 6 continents so far, there have been some pretty good meals.