As we mentioned this morning, the Holiday Markets are in full swing, and we were down by Union Square yesterday. It was a beautiful day to stop at the Union Square Holiday Market for lunch.
One vendor who is at a bunch of different markets throughout the year, but we haven't tried yet, is Arancini Bros.
You probably already know that arancini are Sicilian rice balls. We used to get them from Papa Perrone's, but since he's been off the road, they are difficult to find.
Jiannetto's Pizza Truck was selling Papa Perrone's rice balls after he came off the road, but we haven't seen them in midtown in a while either.
Arancini Bros rice balls are $5 each, or 2 for $9. We got one classic Sicilian ragu rice ball and one dessert rice ball.
They also had pesto arancini, as well as one with eggplant and ricotta cheese.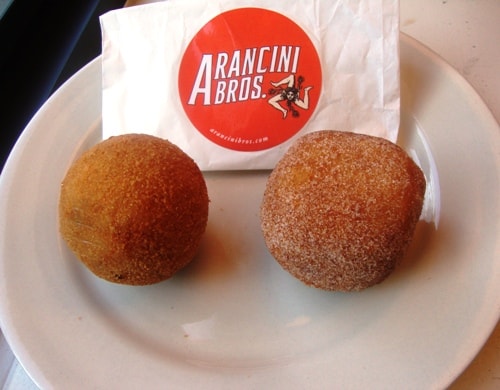 Unlike Papa Perrone's, who cut his rice balls in half, added tomato sauce and mozzarella cheese, and baked it in a pizza oven for a few minutes, the rice balls at Arancini Bros are self-contained.
Everything is inside the rice ball, including sauce and cheese, which makes it easier and neater to eat. That actually makes it more of a "street food" that you can eat walking around.
The traditional ragu rice ball is filled with meat sauce, peas and mozzarella cheese.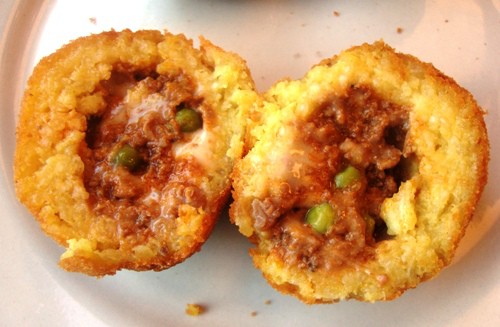 At Arancini Bros, they used yellow rice for around the fillings, then dipped it in bread crumbs and fried that sucker.
The traditional rice ball was pretty tasty. It had an interesting textural mix of soft rice, sauce, cheese and crispy batter.
The rice balls are not big enough where you can have just 1 for lunch. You either need to buy two for lunch, or do what we did, getting one savory and one sweet rice ball.
But this wasn't just any dessert rice ball…it was filled with nutella!
Not only was the inside warm and gooey, with nutella dripping down the rice, but the arancini was dipped in sugar and cinnamon after it was fried. Delicioso!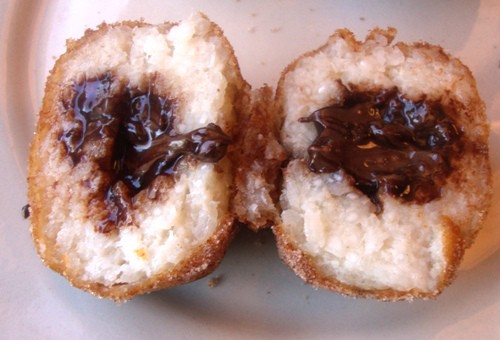 This wasn't exactly the healthiest lunch we've had at the Union Square Holiday Market, but it was well-balanced, if you consider one savory and one sweet to be balanced. Hey, it works for us!
The Arancini Bros website is here. We didn't realize they also have a storefront at 940 Flushing Ave in Brooklyn, and they are at both the Union Square and Columbus Circle Holiday Markets through Dec 24th.
BTW, we are going to Sicily in January for the first time, so we'll have to see how they make rice balls where they were ostensibly created. We'll let you know.