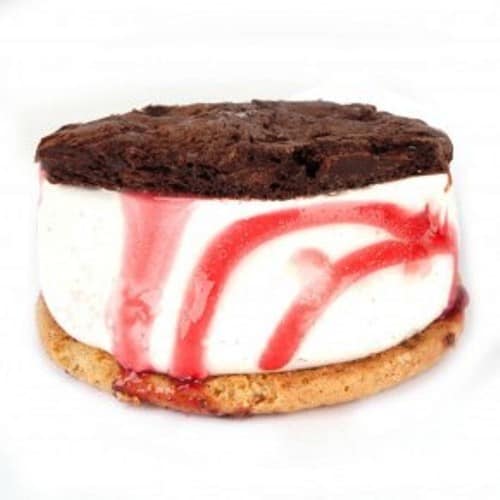 Last week we told you about how Coolhaus' was selling a new Dexter "Killer Combo" ice cream sammie, celebrating the 8th and final season of the show. Well, we spoke too soon about those sales.
Starting today, Coolhaus and Showtime will be giving away FREE Killer Combos in NYC and LA as part of Showtime's push to have Dexter nominated for this year's Emmy Awards.
Click through for the dirty deets (done dirt cheap).
The "Killer Combo" giveaways will take place in New York and Los Angeles from Wednesday, June 19 through Sunday, June 23.
In New York, the Coolhaus trucks will stop in Midtown, Tribeca, Soho and the West Village. Check the CoolhausNY twitter account or our Mobile Munchies twitter feed for exact locations and times of the free ice cream sammie giveaways.
In Los Angeles, the Coolhaus trucks will make stops around Studio City, The Grove, Culver City, Venice Beach, LACMA, FIDM and Hollywood, to name a few. The @CoolhausLA twitter account will have the details.
The "Killer Combo" ice cream sandwich features one dark-side-of-Dexter with a Double Chocolate cookie, one lighter-side-of- Dexter with a Snickerdoodle cookie, and a Tahitian Vanilla Bean ice cream with a "Bloody" Cherry Swirl. (Yes, we know it says a raspberry jam swirl below.)
ENJOY!