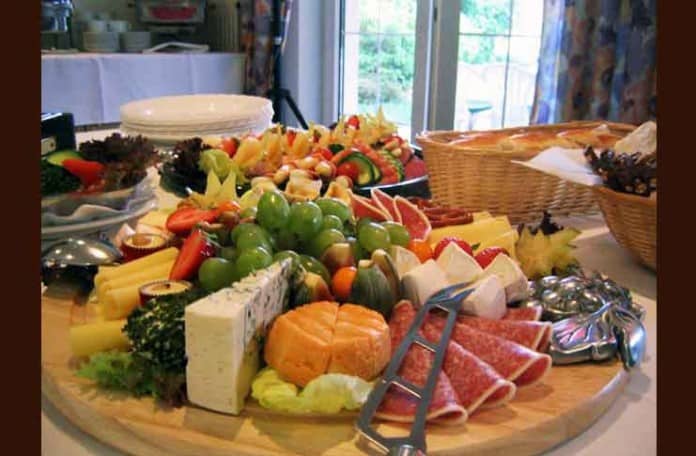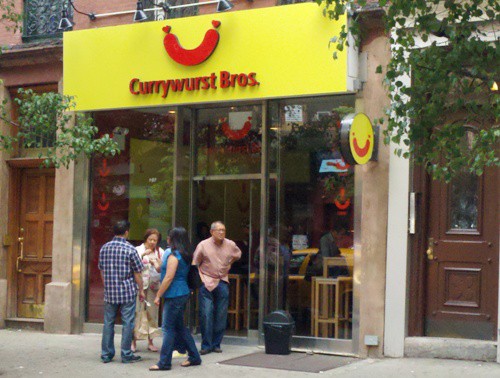 Back in January, we told you about a storefront at 182 Bleecker St with a Currywurst Bros sign, who were bringing the most popular street food in Germany to New York.  This sounded like an excellent candidate for our Honorary Street Food category, so we kept checking on their progress.  (Also, one of our best friends lives on the same block).
Currywurst Bros finally opened 2 weeks ago, and we had an opportunity to get there over the weekend.  After perusing the wurst menu and the extensive curry menu, it looks like we're going to be there on a regular basis…as long as the food is good.
They also have a nice outdoor patio in the back with plenty of room, so it will be a good place to sit outdoors and enjoy some currywurst, 6 different types of bratwurst, 3 types of potato salad (including wasabi) and more.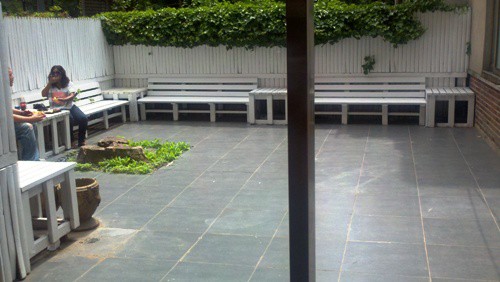 Like so many new food places these days, you have numerous choices to make for each dish.  If you want currywurst, first you choose the bratwurst (pork, veal, beef, turkey or chicken), then you choose your sauce (both are tomato based, but one is more natural), then comes the most interesting part – you choose the curry powder.  If you're not into currywurst, you can also get any wurst on a baguette.
The have 8 different curry powders ranging from Purple Curry (very mild) to Dragon Star (7 flames of heat).  The owner, Thomas, told me in their German stores, the currys go up to 25 flames of heat!  Wow!
Each curry has a blend of interesting ingredients and different ones can include hibiscus, cardamom, orange peel, vanilla, cinnamon, lemongrass, cumin, paprika and more.  The curry menu has all the deets.
Since it was my first time there, I went for pork bratwurst with Curry Jaipur, which is high in paprika and has 4 flames.  I really like paprika, and the heat was in the middle range, so this seemed like a good choice.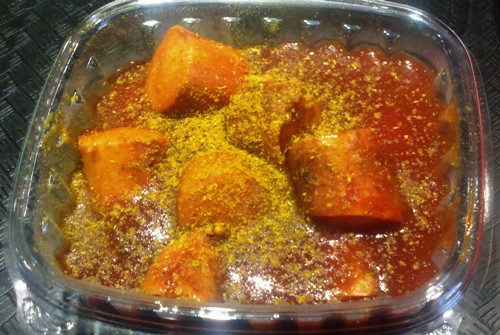 Thomas took the bratwurst off the grill, cut it into pieces, put on their original sauce, and sprinkled Curry Jaipur on everything.
The bratwurst was nicely grilled, with grill marks on the meat.  Before getting cut up, the wurst was over 12″ long, which makes for a good portion size.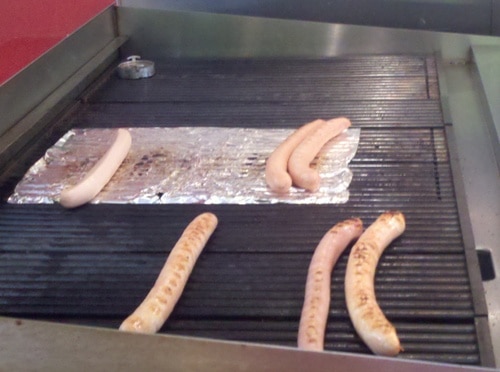 The sauce was a slightly sweet, thick, tomato-based sauce that was pretty tasty.  I usually prefer my wurst on a roll with mustard, but this was an interesting alternative.  The Jaipur curry gave it a nice kick, and the thickness of the sauce helped it cling to the wurst.
The 4 flame level was a bit spicy, but far from brutal.  People in my family that don't generally like spicy food were fine with it.  I had a little tongue tingling afterward, but nothing crazy.
A regular portion of currywurst is $7, so I got the Sunday Combo, which was $8, but included fries, a roll to dip in the sauce, and a can of soda.  That's a pretty good deal.
The fries were cooked with the potato skin on, which gave them an extra little dose of taste, and they were liberally salted.  My wife, who likes fries and gravy as comfort food, dipped the fries into the currywurst sauce and was very happy.  My son took the roll and dipped that into the sauce, and he liked it that way.  I'm a carnivore, and preferred the wurst.
Currywurst Bros is a welcome addition to our Honorary Street Food category, and I'm sure we will be going back for more.  The food is tasty, it's not generally found in this area, and to top it off, they have a nice outdoor space to enjoy in good weather.  Sounds like a winning combination.