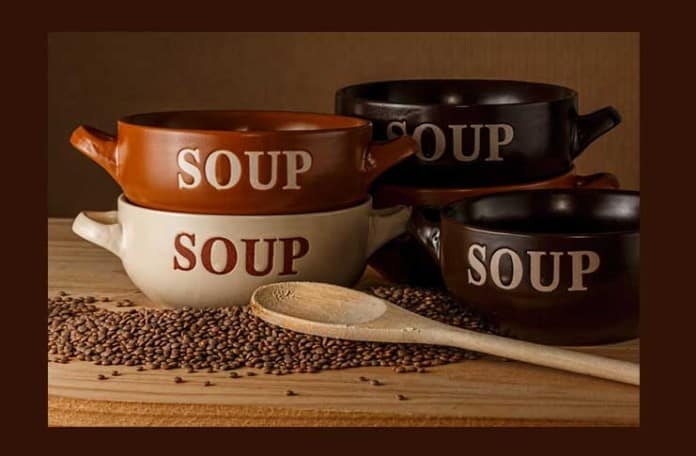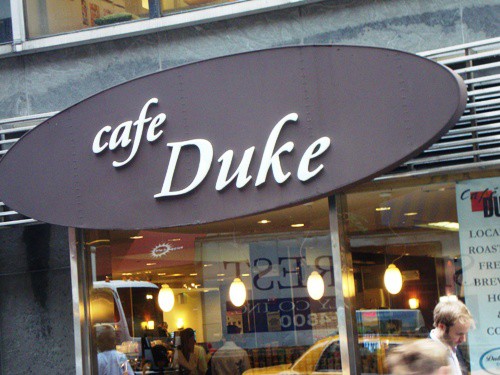 Last week we mentioned about wanting to expand the Honorary Street Food category, and received a tip about Cafe Duke from one of our regulars, Eric B.
Cafe Duke is on 51st St between 6th & 7th Ave, and is one of those gourmet delis that has several counters serving different types of food such as sandwiches and pasta.  It seems pretty similar to many other midtown delis, but Eric mentioned a counter towards the back that serves Korean food.
This was definitely worth investigating further, even though it did not technically fit the definition of Honorary Street Food, in that it was much larger than a storefront, and had a seating area with a bunch of tables.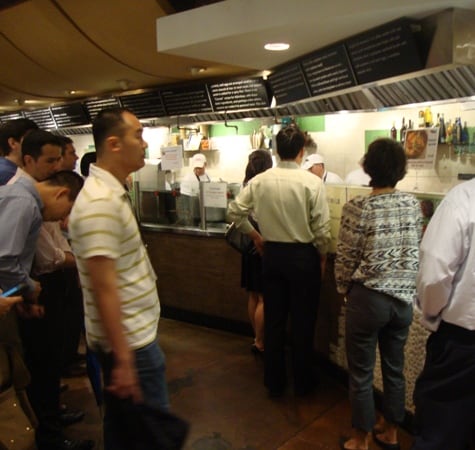 Once inside, I headed towards the back, and there were a good dozen people standing around.  It took a little while to figure out who already ordered and who didn't, which gave me a few minutes to look over the menu and Daily Special.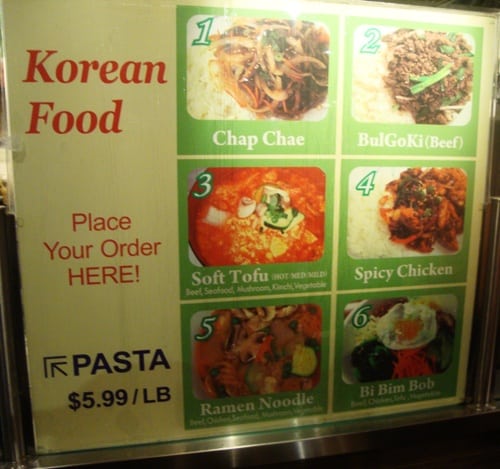 The menu had several Korean specialties like bulgogi and bibimbap, even if they were spelled a little funky – but for Today's Lunch, I got the Daily Special – spicy chicken and vegetable soup ($9.75 after tax).  It was a good thing I ordered the special, because it was served almost immediately, while many of the people ahead of me were still waiting around for their food.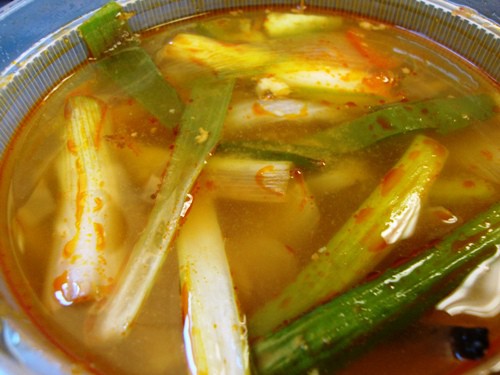 I think $9.75 is a bit steep for soup, but the container was huge and filled with plenty of chicken and veggies.  There weren't any noodles in the soup, but two smaller containers had white rice and pickled cabbage.
There was plenty of chicken in the soup, and it was flecked with hot red pepper flakes.  The chicken was a bit spicy, but not overly so, and it was also a little overcooked in the soup, giving it a slightly mealy consistency.  Other than the hot pepper flakes, there wasn't much flavor to the chicken.
The soup was somewhat spicy too, and mainly tasted of chicken broth.
Where this soup excelled was the veggies.  There were onions, scallions, shredded carrots, mushrooms, bell pepper and string beans – and they were still mostly firm.  If you like veggies, this is the soup for you.
Today's Lunch gets a 7.5 out of 10.  The price was high for soup, but it was quite a large container filled with chicken and veggies.  I just wish the chicken was a little more flavorful.
Based on Today's Lunch, it's too soon to add Cafe Duke to the Honorary Street Food category without trying some other dishes – but there's plenty more to try – like bulgogi and bibimbap.